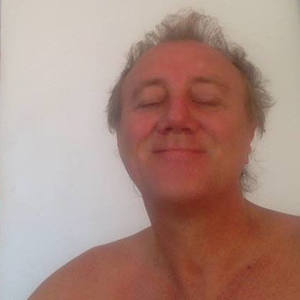 Follow
Alann De Vuyst
Herzele, Oost-Vlaanderen, Belgium
About Alann De Vuyst
I think anything can trigger off a bulk load of ideas. Sometimes I bottle them up, sometimes I set myself at the table and try to work out an idea I had the month before, or just after I had a vision or a dream. Sometimes it is the jitterbug in me, the restlessness that makes me want to create. Compulsion, if I do not have canvas, paper or a brush, I'll take the tablet. I am super productive and I will seek the means to express myself in any which way possible within the capacities I have in new or traditional media. I have traveled thirty years and been to forty-two countries; now this life is paying off in just picking from my mental baggage that I have carried with me for so long. Some things are created when they need to be created. Like for installations or objet trouvé, I am collecting stuff I find here and there on the streets or in the nature, and when the time is ripe, every thing fits together like a jigsaw. I have lots of premonitions that make me create works as if I pluck them from the thin air, with my gut antennae. But basically, I just sit, retrieve a few lines or ideas from my head and let it run. I seem to have a natural talent for colours. I tap into previous lives. and from my visions with entheogens, I have been confirmed that I had several in Central America. Once I asked Mother Huasca (the entheogenic vine from the Amazon) why I should continue to paint, while I see the best and finest artwork when I travel on and with her? She answered that it was my duty and my assignment, to be a storyteller through my artwork, and that I should continue to do so through my artwork. This is much connected to intuition, telepathy, which seems to develop to higher levels as I get older and get more aware about those talents. I have been an atheist for 37 years, and have spent ten years of my life in India as such. Just imagine,me,an atheist in a country with thousands of gods and demi-gods. It was but in 2005 when I took my first San Pedro (a mescaline cactus available in Bolivia, Peru, Chile, and Argentina) potion, alone in a hotel. The first time alone, and eating it instead of drinking, as there was no way of boiling it in my room. My firs visions were impressive and I tried to make drawings, sketches in which I wanted to control the colour choosing (red only) but I failed in controlling that. My latest works have been made this year in Peru. Three months before I was told my mum was diagnosed with an aggressive breast tumour, I had a dream of how my mum stood by (see it at www.saatchiart.com/art/Drawing-WATCH-OUT-MUM-FOR-THE-PAPER-SNAKE/26453/2http://www.saatchiart.com/Alann557675/view) my side, and how a paper snake with jaguar spots moved toward us from a shelf filled with phalli. My mum reached out to touch the snake, I screamed "NOOOOO", but it was too late. The snake bit her in her fingers, and I woke up. As a shaman (some believe I am one) I must interpret my own dreams and visions. I had many more; also after the first time in La Paz, I had several on the Island of the Sun, on the Lake Titicaca. After that I could never return to the atheist belief. I channel different entities and speak in tongues when I am on in trance. Those trances (with San Pedro, huasca, marihuana, chicha de jorra (a fermented maize drink from the Incas), sometimes have been the root and cause to make videos, songs, poetry, sketches, and paintings.
Education:
ACADEMIE voor SCHONE KUNSTEN AALST

ST-LUKAS INSTITUUT BRUSSEL

ROK BRUSSEL

MINI BIO

Alann De Vuyst was born in Dirk Marten's* city of Aalst, in the province of Oost-Vlaanderen, Belgium. At the tender age of nine he studied art on Sundays with his father and elder sister at the Academie van Schone Kunsten in the same city for four years. A twenty kilometers roundtrip on his small bicycle, over hilly Flanders through snow and rain and occasional sunshine. At thirteen he was the youngest painter at an artist fair in the city of Zottegem.
At fifteen he finally decided to take classes in advertising arts at the renowned St-Lukas Instituut in Brussels, for another six years. In 1982, he set out to work for a brief spell at the famous advertising agency Lintas SSC&B worldwide/Brussels, for which he was selected and awarded a second prize in a contest of designing a poster for the agency's 50 years of existence. The reward was a six months term of work at their office in Brussels.

Alann's passion and drive for wandering was only at it´s beginning. Knowing he had three months before he had to be on the job, he set off on a hitching holiday to Spain. It was in the city of Murcia where he started his first pencil drawn portraits of locals and backpackers for a mere 300 pesetas. Eventually he did the job for more lucrative means in the tourist city Torremolinos in the Costa del Sol.

The next plan was Morocco where he experienced his first culture shock which would alter his vision of the world tremendously, never to become the same person after. After running out of money he tried his luck in portraying locals in the city of Agadir. Alas, the authorities thought differently and saw him as an illegal worker and deported him straight away.

Back in Belgium he couldn't adapt to a nine to five job with little say over his creations. Six months later, he tried his luck at illustrations, cartoons and comics, some of which were awarded at cartoon contests such as the famous Knokke-Heist International Cartoon festival in 1987. The same year he got nominated for painting and cartoons by the Olivier Strelli award. 1988 was the year in which he became involved with the 'Salon des Refusés', named after the Salon de Refusés founded by Napoleon III in the 19th century. It was a non-profit organization officially protesting against the elitist approach of the annual 'La Jeune peinture belge' contest and against the monopolized Belgian art world in general. They held exhibitions with a hundred participants in old beer breweries or abandoned military barracks without jurying the participants. Pros and amateurs exhibited side by side.

In 1989 he became the vice-president of the organization for one year after the group was dissolved. Alann was censored the very same year by a commercial gallery (Arcade Mauve) for two political portraits of Margareth Thatcher and king Hassan II of Morocco, judged too dangerous in times when Salman Rushdie got a fatwa on his head.

Bored and disappointed with the Belgian art scene, Alann finally departs for Brazil, where he gets adopted by a indigenous nation: the fierce Shavante, who live in Mato Grosso. He painted the people with vegetable colours (urucum), which the Indians use on their bodies that earned them the name of redskins.

After his stay with the Xavante he was often on radio shows and once in well-known talk shows on TV for interviews and collected money for a development project, which was successfully executed in 1991. The project was about building a water supply system for two different Shavante villages. He's currently writing a book on those days and times he stayed with them. Furthermore he's written short stories and poetry published by a Flemish literature quarterly known as 'De Brakke Hond'.

Events:
If you want to see my paintings, installations, etc, then you best go to see: www.alann.exto.org

FOR MORE INFORMATION ABOUT HOW MY WORKS COME INTO BEING, PLEASE FOLLOW THIS LINK:
http://grahamhancock.com/vuysta1/

For much older works you can go to
www.shopart.com/devuyst

Last week I got interviewed in the 8th issue of ARTReveal:
http://www.artrevealmagazine.com/tag/alann-de-vuyst/
Exhibitions:
Please, see exhibitions at: http://www.alann.exto.org/exposities.html#.Vj26Q8rPfLQ

My works have been seen and collected in Bolivia, Peru, Ecuador, Thailand, India, Nepal, Holland, Belgium, France, Germany, Japan, USA, Mexico.

http://www.alann.exto.org/index/146305_Biodata+2.html#.Vj26g8rPfLQ
http://www.alann.exto.org/index/12208006_Biodata+1.html#.Vj26oMrPfLQ
Recent Activity