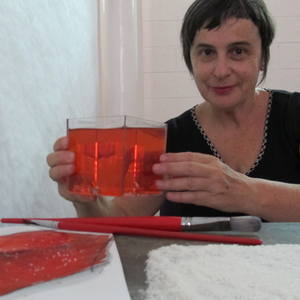 Follow
Ioana Georgescu
Montreal , QC, Canada
About Ioana Georgescu
Montreal-based artist born in Bucharest, Romania. Her practice encompasses performance art, video installation, photography, drawing and literary fiction. Projects are often presented in site specific contexts and are inspired by sites and situations. The narrative is informed by the engagement with the site. The works reflect both the conditions of production and dissemination. Ioana is the author of three novels in French : Évanouissement à Shinjuku (2005), L'homme d'Asmara (2010) and La Jetée, elle s'appellera Mo (2013) all published by Les éditions Marchand de feuilles. The English translation of la Jetée will be published by Linda Leith Publishing in 2019.
Education:
Ph.D. Comparative Literature, U of Montreal, (Aesthetics). Trans-disciplinary dissertation on Frames, Framing and Artistic Space (painting, photography, cinema, video art, installation, performance, literature).
M.A Comparative Literature, U of Montreal (Kandinsky's Abstract Art and Italian Neo-avantgarde Gruppo '63 author Edoardo Sanguineti).
B.A Honours Italian Studies and Art Education (painting, drawing, printmaking), McGill University.
Events:
International festivals and art residencies (visual and media arts).
Selected venues : Manila Biennale Open City, Beijing 798 Art Zone, Open Festival ; Jogja National Museum and Performance Klub in Jogjakarta, Indonesia ; Barcelona Hangar Visual Arts Center TOP Festival ; Jiwar Barcelona, Vienna Generali Foundation ; 7 *11 Toronto Festival ; RIAP Québec ; Centro em Movimento Lisbon, Biennale di Venezia in Budapest, Annart Translivania; Tutok Manila, Podwil and Tacheless Arts Centres Berlin.
Exhibitions:
Cairo, Egypt : Townhouse Gallery Cairo. Video-installations. Solo.
Jogjakarta, Indonesia : Kebai Kebun Forum Gallery, Performance and installation. Solo.
Barcelona, Spain : Palau Moja, Video Installations. Fête Nationale du Québec. Solo.
Barcelona, Spain : Hangar Center TOP.
Mapping, Video-installations. Drawing-installations. Group shows.
Montreal, Canada : La Centrale/ Powerhouse Gallery. VIVA. Performance and video installation. Solo.
Ljubljana, Slovenia : Kapelica Gallery. Performance- installation. Solo.
Quebec City, Canada : Museum of Civilization, Folie Culture. Performance-installation. Group show.
Novi Sad, Serbia : Museum of Contemporary Art Museum Vojvodina. Group show. Video Installation. Group show.

Recent Activity