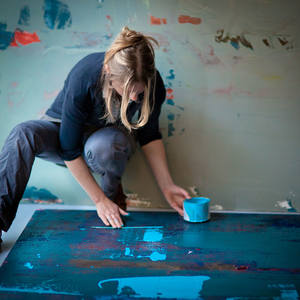 Follow
Irma Lescinskaite
Klaipeda, Klaipeda Region, Lithuania
About Irma Lescinskaite
I have been participating in exhibitions in Lithuania and abroad since 1990 and was a supervisor of international artistic projects. I've held 23 personal exhibitions in Lithuanian galleries, participated in 105 joint painting exhibitions, carried out artistic projects in Lithuania, Austria,United States of America ( New York), Italy, Russia, Ukraine, Germany, Denmark, Poland, Sweden, Finland, Latvia.
Education:
2004-2007 Vilnius Academy of Art, Licensee of Arts Degree (PhD), Lithuania
1992-1998 Vilnius Academy of Art, Master painting, Lithuania
2001–member of Lithuanian Union of Artists (status of a creator was granted)
2009–2016 state stipend was granted (Lithuanian Ministry of Culture)
2006–stipend, residency at Kunstlerhaus Lukas, Ahrenshoop (StiftungKulturfonds), Germany.
1996–J. Soros grant
1996–studies of painting at Salzburg Summer Arts Academy (teachers: N. Spero and L. Golub, USA), Austria.
Events:
1. Instruction book, methodological aid Irma Lescinskaite "XX c. Abstraction in Lithuanian Painting of 7-9 Decades", 2010. Printing House of Klaipeda University, 73 p., ISBN 978-9955-18-485-0, second edition.
2. Instruction book, methodological aid Irma Lescinskaite "Connections of XX c. Abstract Expressionism With Baroque Painting", 2001. Publishing house of Vilnius Academy of Arts, 66 p., ISBN 978-609-447-013-4.
Exhibitions:
2016 Kaleidoscope of the Mind, "Agora" gallery, 530West 25th Street, New York, NY.
2012 Art project painting + classical music installation, Concert Hall, Klaipėda, Lithuania
2011m. International "Billboard" Festival of Painting Works, Viborg, Germany.
2011 Groups exhibition "Behind the White Curtain". Lithuanian Pavilion at 54th International Art Exhibition – La Biennale di Venezia, Venice, Italy.
2010 Groups exhibition Lithuanian-Polish project "Contemporary Painting. PostEvolution", Klaipeda Exhibition Hall, Lithuania.
Recent Activity