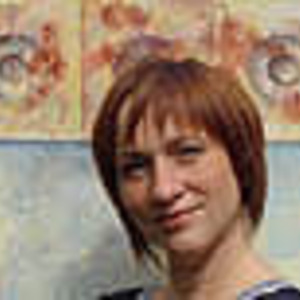 Follow
Jo Sheppard
About Jo Sheppard
I was born in North East Lincolnshire, UK in 1969. Following an art and design foundation I undertook a fine art degree course at Coventry University, graduating in 1991. It was during the degree course that I turned away from my main interest of photography, discovering a true passion for oil painting. As a consequence of visits to various European cities, I developed an interest in the ambiance characterised by strong architectural features and quality of light. Creatively interpreting this became the focus of my work.


If I had to describe my art I would say... neither an abstract or traditional artist, my work is perhaps best described as 'non-figurative'. I focus on mood and ambiance rather than literal subject matter.

The majority of my oil paintings are created on canvas using a multitude of colour washes, poured paint and splashes, overlain with areas of thick impasto. Many works incorporate other materials, including sand, wax and fabric. A common compositional technique includes the juxtaposition of large, loose areas with tighter, realistic features and embellishment. Paintings vary in size up to 10 x 7 feet, with most being around A1 in size.

I work in a variety of other mediums too, including charcoal, chalks, collage and printmaking. Photography remains an important medium, both creatively and as a means of collecting visual reference material. In terms of influential artists, I enjoy studying Anselm Keifer and Antoni Tapies for their textural qualities, and Mark Rothko for his use of colour. On a wider level I appreciate a great many artists, with styles ranging from Turner and Giorgio de Chirico to Jim Dine.

Education:
On Reflection
June 2006
Generator Gallery- Loughborough

A Postcard From Venice
Sharpes Pottery
Swadlincote, Derbyshire
February 2006

Loughborough Artspace at Christmas
City Gallery Leicester
December 2005

'Identita Inglese' (as part of the Venice Biennale)
Barchessa di Villa Morosini XXV Aprile, 30035 Mirano,Venezia Italy
October 2005

Mini Gallery North Exhibition
The Art Works-Newcastle
October 2005

Hidden Treasures
Hinckley Library, Warwickshire
September 2005

"Mini Gallery & Friends"
Addingham, Yorkshire
September 2005

Hidden Treasures (Leicestershire Open Studios)
Artspace Exhibition
Woodhouse Eaves Annex
September 2005

Hidden Treasures: Leicester and Leicestershire Open Studios.
The Depot, Leicester
August 2005

Artspace @ The Mill
Ashby de la Zouche
August 2005

Quorn Artists
Quorn,Leicestershire 2003

Open Art Exhibition
Patchings, Nottingham 2003

PGCE (Art and Design)
UCE Birmingham 1995

Fresh Art Show
Islington Design Centre, London 1991

BA Hons (Fine Art)
Coventry University 1991,
Events:
Future Shows: Artspace at Christmas
5th-16th December
City Gallery
Leicester 2006

Artspace Contemporary Art Fair
11th-12th November 2006 Woodhouse Eaves
Leicestershire


Recent Activity