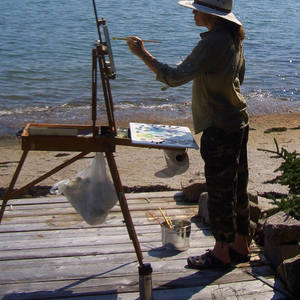 Follow
Martha Wakefield
Belmont, MA, United States
About Martha Wakefield
Visual artist working in oil, watercolor & acrylic. My work explores love, loss and what remains.
Education:
Studied with Wolf Kahn, Skip Lawrence and Jon Imber
Studied at the Museum School of the Museum of Fine Arts Boston, MA.
Artist Professional Toolbox, Boston, MA. 2008
University of Vermont, Burlington, VT. Bachelor of Science.
Fashion Institute of Technology, New York, NY. Associate of Applied Science.
Events:
Curator "Grey Matter, 9 artists exploring the greyscale through print, paint, sculpture & photography." Cultural Center of Rocky Neck, Gloucester, MA. Summer 2017

Chosen "Ones to Watch 2017," Watercolor Artist Magazine.

Near & Far, 2 person show, Law & Water Gallery, Gloucester, MA. Summer 2018

Detangled, 3 person show, Kathryn Schultz Gallery, Cambridge, MA. Fall 2015
Exhibitions:
Selected Invitational Exhibits:

In Memory of Jon Imber, RiverSea Gallery, Dover, NH, 2017
Small Works Show, Courthouse Gallery, Ellsworth ME, 2016
Beyond Plein Air, Rocky Neck Art Colony Cultural Center, Gloucester, MA. 2016
Greater than the Sum of its Parts, Lasell College, Newton, MA. 2014
Love Shack, Nave Gallery Annex, Somerville, MA. 2014
SouthEnd by NorthEast, Cultural Center at Rocky Neck, Gloucester, MA. 2013
A Room of Our Own, Concord Art Association, Concord, MA. 2013


Selected Juried Exhibits

8th Annual ISAP international Open Online Show, Juror Carole Pickle
Members Juried I, Concord Art Association, Juror Joanna Fink, Director Alpha Gallery, Boston 2016
Platinum, Cambridge Art Association, Cambridge, MA. Juror Alise Upitis, Assistant Curator, MIT List Visual Art Center. 2014
Artists In The Arboretum 2014, The Arnold Arboretum of Harvard University, Jamaica Plain, MA. 2014
6th Annual ISAP (International Society of Acrylic Painters) Signature Members Online Show. Juror: Robert Burridge. 2013
69th Members Prize Show, Cambridge Art Association, Cambridge, MA. 2013
Juror Kate McNamara, Director & Chief Curator Boston University Art Gallery. 2013
14th Annual Frances N. Roddy Open Competition, Concord Art Association, Concord, MA. 2013
Juror: Nick Capasso, Director Fitchburg Art Museum. 2013
Map It, National Juried Exhibit, Riverside Arts Center, Ypsilanti, MI. 2013
16th Annual Open ISAP International Exhibition, Paso Robles, CA. Juror: Christopher Schink. 2013
5th Annual Open ISAP International Online Exhibition. Juror: Skip Lawrence. 2013
Members Juried I: Paintings & Sculpture, Concord Art Association, Concord, MA. Juror: George Nick. 2013
Recent Activity