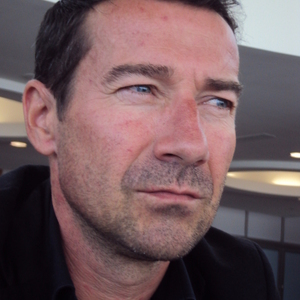 Follow
Wilfrid Moizan
About Wilfrid Moizan
I was born in 1969, Britanny,to a family of artists. Drawing and painting being my favorite means of expression, I logically became a student at the Fine Art College in Rennes, where I familiarized myself with different technique while studying the History of Arts. After completing my studies in 1996, I "enlisted" as an Art teacher, and I taught in various junior high schools in Normandy before moving to Guadeloupe where I lived for five years. I moved to Saint-Martin, French West Indies, in 2006.
Events:
My paintings "Friends" and "French connection", from "heroes series", will be exhibited in Retromobile 2016, in Paris, from february 3rd to 7th, thanks to Vitesse gallery.

"Sleeping beauties", solo show in february 2016 at Escape, Cupecoy, Sint-Maarten. opening january 31st at 6.30.
More information on my facebook page.
Exhibitions:
Solo exhibitions:
"Sleeping beauties", Escape, Cupecoy Sint-Maarten, 2016
"Heroes", private show, Sint-Marteen, 2014
"ww1", The Cliff, Sint-Marteen, 2011
"Jules suite", The Cliff, Sint-Marteen, 2010
"Jungles", Tropisme gallery, Saint-martin, 2008
"Beach boys", Derek Alexander gallery, Saint-martin, 2007
"Conversation", Malain's Factory, Guadeloupe, 2005
Espace carmes, rennes, 1995
TNB, Rennes, 1992
Espace Carmes, Rennes, 1992
Appatame, rennes, 1992

Group exhibitions
Galerie Vitesse, Paris, setember/october 2016

Galerie Vitesse, Paris, 2015
"Hibakusha", Chapon gallery, Saint-martin, 2013
Galerie du fleuve, Paris, 2009
Principle gallery, Alexandria, 2009
B Wilker showroom, Nashville, 2008
Moizan vs Cusson, Paris, 1996
Essec, Nantes, 1995
Recent Activity