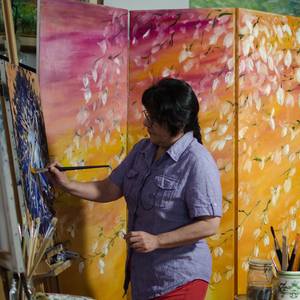 Follow
Claudia Pombo
Amsterdam, Netherlands
About Claudia Pombo
Born in 1952, in Natal, Rio Grande do Norte, Brazil. Raised in Niteroi, Rio de Janeiro, later lived mostly in Rio de Janeiro city, but also in other cities inside Brazil and abroad. Presently, living in Amsterdam, The Netherlands.

As a painter, the visualization of experiences in the psychic regions of the interconnection between art and knowledge, beyond the limits of our normal languages, is my main interest. As illustrator, my source of inspiration is in the original aboriginal cultures from South America, specially from Amazonia, with their rich cultural heritage of myths.

Education:
Painter and illustrator. Since 2004, I had been exhibiting each year with members from the Meerkunst organization in Amsterdam and other events.
Recent Activity