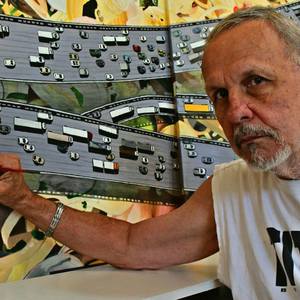 Follow
Ken Vrana
Cary, NC, United States
About Ken Vrana
Internationally-recognized fine artist, Ken Vrana, has been painting for over 57 years – 55 of them professionally. Growing up in the Hamptons, during an artistic explosion of incredible talent, he subsequently studied with seminal artists like William DeKooning, Larry Rivers and Ashcan School artist, Valentine Arborgaste. In 1965 he was invited to participate in a special sculpture program at Syracuse University, and in 1966 he started school at Brooklyn's Pratt Institute. During the next few years, while pursuing a degree in Interior Design, he also studied with artists like Andy Warhol. Over time he owned his own advertising agency in Atlanta and eventually made his way to Los Angeles and the film industry. Having never written anything professionally, within 2 weeks he had sold his first screenplay and soon found himself represented by the William Morris Agency. After 15 years he decided to change course and moved to Cary, North Carolina, a town south of Raleigh and at age 49 decided to pursue something he'd wanted to do for year; go to law school. Shortly thereafter he created the 1 in 8 Foundation, while working for Sir. Paul McCartney's breast cancer charity. At about that same time he sold his first book, entitled 'Free Falling.' "I never paint for a particular audience," Ken says, often creating paintings that seem to defy any established category, but instead, "I paint what inspires me and hope that collectors will find my work worthy of their attention."
Education:
Pratt Institute, Syracuse University, UNC Chapel Hill, Qunnipac School of Law
Events:
Ken continues to do select shows around the country and his works are in many galleries and collections, worldwide.
Exhibitions:
Late in 2012 people began to compare his paintings to one of the most important artists of the last century, Lucian Freud. Ken exhibition "The Invisible People," is a collection of 41 paintings, each approximately life-sized of unique people, who he found living all over the country. Those who own Ken's work include Presidents Carter and Clinton, Sen. Edward Kennedy, racing drivers Mario and Michael Andretti, actors Henry Fonda, George C. Scott, Jack Lemmon, Rosemary Clooney, Steve Buscemi, Robert Hays and most recently Daniel Day-Lewis. He has recently completed paintings for Bill Mahar and Stephen King, and last year presented a one-man show of over 100 paintings in Nashville, TN.
Recent Activity