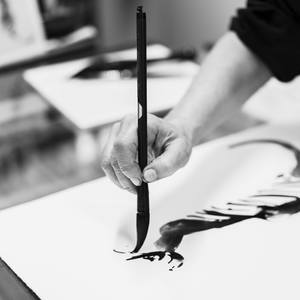 Follow
Aurore de la Morinerie
Paris, IDF, France
About Aurore de la Morinerie
Aurore de La Morinerie is a French artist and illustrator. It was in the early nineties that Aurore first gained recognition as a Fashion illustrator. Today, she works with world-renowned brands like Hermès, Alaïa, Chanel, Cartier, Omega, Maison Martin Margiela, Rick Owens, H&M, Aesop, Lancel, Tiffany, Neiman Marcus and Le Printemps department stores. She is also a regular contributor to the New York Times T Magazine, the American and British issues of Harper's Bazaar, AD Magazine, ELLE France, as well as Le Monde's weekly supplement issue.
Education:
Aurore de la Morinerie first began taking calligraphy and Chinese painting classes while studying Fashion design at the Ecole supérieure des Arts appliqués Duperré, in Paris.

Exhibitions:
Represented by the Bartsch & Chariau gallery in Munich until 2018, she took part in Fashion illustrations exhibitions at the London Design Museum in 2010, and Hamburg Kunst und Gewerbe Museum in 2015.

In 2013 and 2015, the Musée de la Mode de la Ville de Paris - Palais Galliera, commissioned two body of works from her, the first being a series of monotypes for the Azzedine Alaïa exhibition catalog. The second, a series of drawings for "La Mode retrouvée - Les robes trésors de la comtesse Greffulhe", was featured both in the exhibition and in the catalog. As of today, ten works of the artist are now part of the permanent collection of the Graphic Arts department of the Palais Galliera.

A first personal exhibition is currently taking place at the Akio Nagasawa in Tokyo from November 28, 2018 until February 23, 2019.
Recent Activity