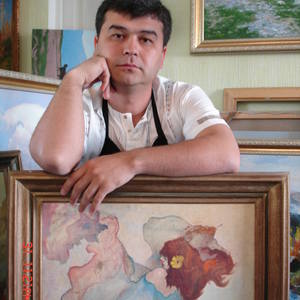 Follow
Azamat Atabaev
Tashkent, Tashkent, Uzbekistan
About Azamat Atabaev
I was born in 1975, Andijan, Uzbekistan. Recently live and work in Tashkent. My most works are in realism style, landscapes. I work with oil on canvas.
Education:
In 1999 got Masters degree graduating from National institute, of art and design at the studio of P. Perov.
In 1993, finished Republic Specialized school of music and art.
Events:
I am a member of National Artists Union "Hunarmand". In 2013 was awarded with Order of "Friendship" from the Ministry of Culture of the Republic of Uzbekistan. Many paintings are in private collections from Uzbekistan and abroad.
Exhibitions:
1995 - 2000 .. – participant of exhibitions among youth in Tashkent
2000 – 2008 .. - participant of an annual exhibition "Artist and nature" and exhibitions dedicated to the Independence Day of the Republic of Uzbekistan
2006 .. participant of an exhibition "Artist and nature" (Central Exhibition Hall of the Academy of Art of the Republic of Uzbekistan)
2006 .. group exhibition (Gallery of National Art of the Republic of Uzbekistan)
2007 .. participant of an exhibition «Eng ulug eng aziz», dedicated to the Independence Day of the Republic of Uzbekistan (Central Exhibition Hall of the Academy of Art of the Republic of Uzbekistan)
2008 .. participant of an exhibition dedicated to the 8th of March (Central Exhibition Hall of the Academy of Art of the Republic of Uzbekistan)
2008 .. participant of an exhibition dedicated to holiday "Navruz" (Central Exhibition Hall of the Academy of Art of the Republic of Uzbekistan)
2008 .. participant of Moscow International Art salon exhibition-2008 «World of Artist»
2008 .. participant of an exhibition in China "China in the World"
2008 ... participant of the festival « Navqiron Uzbekiston» , (Youth Creativity Palace)
2008 .. solo exhibition at the hall of the building of the Ministry of Foreign Affairs
2009 .. participant of Moscow International Art salon exhibition - 2009
2009 .. participant of an exhibition "Artist and nature" (the House of photography)
2010 .. participant of International exhibition "Uzbekistan – Korea" (the House of photography)
2010 .. participant of an exhibition «Landscapes of my Motherland» (Youth Creativity Palace)
Дворец творчества молодежи)
2011 .. participant of an exhibition with brother-artist Alishet Atabaev (Youth Creativity Palace)
2011 .. participant of an exhibition "Artist and nature" (Central Exhibition Hall of the Academy of Art of the Republic of Uzbekistan)
2012 .. solo exhibition (Central Exhibition Hall of the Academy of Art)
2013 .. participant of an exhibition "Artist and nature" (Central Exhibition Hall of the Academy of Art of the Republic of Uzbekistan)
2017 .. participant of an exhibition "Artist and nature" (Central Exhibition Hall of the Academy of Art of the Republic of Uzbekistan)
2018 .. participant of an exhibition dedicated to the Independence Day of the Republic of Uzbekistan (Central Exhibition Hall of the Academy of Art of the Republic of Uzbekistan)

Recent Activity