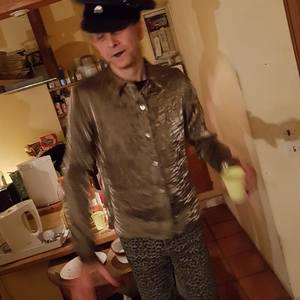 Follow
Chris Beraet
Vence, Alpes-Maritimes, France
About Chris Beraet
I live in Vence, where I paint images that I cannot see with my eyes. I work without visual support. No picture, no model. I don't paint my personal life or my background even if there is of course a part of my unconscious but it's not imagination. This makes my creations unique and impossible to reproduce (even by myself). My paintings are like big, colorful drawings. I have been painting professionally for over fifteen years. Sort of a child of Bacon and Chagall, figurative and Surrealist, I like colours. I like spontaneous expression. I like writing, calligraphy and poetry. They opened the doors of painting to me.
Education:
EMAP/ Arts School, Villa Thiole, Nice.
ArtDec/ Arts School - prof. Christian Geai, (Mural Fresco and "Trompe-l'oeil" painting) Nice.

Events:
Nicolas Cizeron Prize 2018 (awarded by the jury of the Salon des Artistes Français to a French expressionist artist)
Jury Prize 2015 of IAA / AIAP-Monaco exhibition.
Painting Prize 2015 of National Art Committee of Monaco.
Bronze award 2015 (painting) of Society of French Artists, Art Capital, Paris
Recent Activity