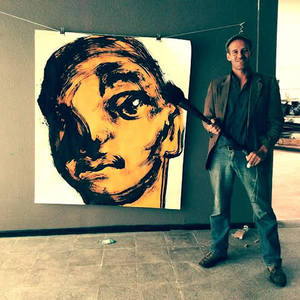 Follow
Bert Eelen
Leuven, Belgium
About Bert Eelen
born 1972, Belgium. Hello, thanks for taking the time to check me and my work. My art is about speed, accuracy, creation, people, communication and a love for drawing. I love working in one go. I call this a "shot from the hip": I dip my brush in the ink, relax and start drawing a face with as little of lines as necessary. I focus a lot on the eyes because they make it come to life. My art is a mixture of action-painting, figuratrive painting and doodling. ...
Education:
Art Historian, e-Business Development, Programmer
Events:
website: www.Eelen.be

Exhibitions:
Leuven
Tienen
Bierbeek
Boutersem
Brussels
London

Your backyard ?
Recent Activity