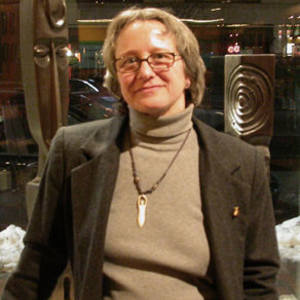 Follow
Clara Cohan
Cape Elizabeth, ME, United States
About Clara Cohan
Born: 1956; Bradford, Pennsylvania, USA Throughout my career as an artist, I have focused on the impact of images on the human psyche and in the development of a culture. Beyond the building of technical skills, there has been an intense study of multi-cultural archetypal and symbolic languages. Through travel, I have directly experienced the symbolic nature of such cultures as the Rapa Nui of Easter Island, native South Pacific peoples, Alaskan Natives, the earth-based cultures of Ireland, Mexico, and the Native American, particularly the Hopi Indians of Northern Arizona. Other cultures have been explored through major museums throughout North America and Europe. Presented here, is a series of wood sculptures, Contemplating Our Place in the Universe.
Education:
EDUCATION: My education has a mix of traditional and self-directed alternative learning experiences. Earliest learning was with my mother, Marie Cohan, who was taught in the Old Master's techniques in drawing and oil painting, and passed those foundational methods on to me.
Chautauqua Art Institute, Chautauqua, NY.
Apprenticeship with Daniel Newman, Stone Sculptor, Sedona, AZ.
Art Students League, New York, NY.
Self directed, intensive 110 hours of drawing from the works of the Metropolitan Museum of Art, New York, NY. Independent studies of Art abroad: Italy, Ireland, Mexico, Netherlands, Germany, Easter Island, Tahiti, Iceland, New Zealand. 1974-1976Findlay University, Findlay, OH.
Events:
GALLERY AFFILIATIONS:
2003-2018 Harbor Square Gallery, Rockland, ME
Exhibitions:
2020 "Maine Wood 2020" juried exhibition, Center for Furniture Craftsmanship, Rockport, ME

2020 "Portland 2020", juried photography exhibition, Cove Street Arts, 71 Cove St., Portland, ME
2019 "All the Great Trees" juried Photography exhibition, Creative Portland Gallery, 84 Spring St., Portland, ME
2019 " November Member's Show", Union of Maine Visual Artists, Portland,ME
2019 "Our Life is One of Lights and Shadows" juried photography, Union of Maine Visual Artists, Portland, ME
2019 "June Member's Show", Union of Maine Visual Artists Show, Portland.,ME
2018 "Maine Wood 2018", juried exhibition, Center for Furniture Craftsmanship, Rockport, ME

2018 "Journey with a Lens", photographs by Clara Cohan, Stanhope & Spencer Gallery, Rockland, ME
2018 "Maine Wood 2018", juried exhibition, Center for Furniture and Craftsmanship, Rockport, ME
2016 "Maine Wood 2016", juried exhibition, Center for Furniture Craftsmanship, Rockport, ME

2015 "Create IV"; Maine College of Art, Portland, ME
 2014 "Let There Be Light", Maine Jewish Museum, Portland, ME

2014 "Create III"; Maine College of Art, Portland, ME 
 2014 "Free for All 4", SPACE Gallery, Portland, ME
 2014 "Maine Wood 2014", juried exhibition, Center for Furniture Craftsmanship, 
Rockport, ME

2012 "Maine Wood 2012", juried exhibition, Center for Furniture Craftsmanship, Rockport, ME

2011 "Critters 2011", Curator, Nancy Davidson; UNE Art Gallery, Portland, ME

2011-2012 "Small Works"; Hole in the Wall Gallery, Raymond, ME

2003-2010 "MAINE SCULPTORS": The Lewis Gallery of the Portland Public Library, Portland, ME

2009 Casco Bay Wood Carvers; group exhibition; Dan Kany Gallery, Portland, ME

2007 "1st Annual Sculpture Show"; The Gallery on Chase Hill, Kennebunkport, ME

2007 "MAINE SCULPTORS"; Atrium Art Gallery, University of Southern Maine; 
Lewiston-Auburn, Maine

2004 "MAINE SCULPTORS at the Maine Art Gallery", Wiscasset, ME

2003 The Gallery on Chase Hill, Kennebunkport, ME
 2002 "911:Prelude to an Apocalypse"; University of New England, Westbrook, ME

2002 "911: Maine Responds"; Maine Art Gallery, Wiscasset, ME

2002 "The Spirit of Humanity...The Spirit of Stone"; Aucocisco Gallery, Portland, ME

2000-2001 Stone Sculptures; Eastland Gallery, Portland, ME
 2001 "Sculpture 2001"; Maine Art Gallery, Wiscasset, ME

1997 TAI Gallery, New York, New York
Recent Activity