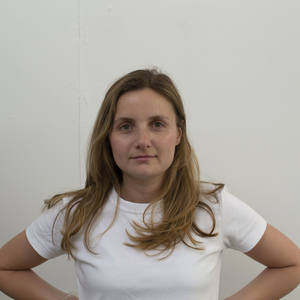 Follow
Dominique Bradbury
London, London, United Kingdom
About Dominique Bradbury
I was born in London but was raised in Chile, where I obtained my BA in Art. After studying in Germany and, more recently, obtaining my MFA at the Slade School of Art, I've decided to stay in the UK. I define my practice as an ongoing visual investigation about looking and understanding images that surround us. I begin by grasping my own relationship and response to particular everyday images found in magazines, advertising and mass media imagery, and end up constructing a body of work which touches concepts of identity and 'appearances'. I aim to create a rich, playful, and sometimes satirical, visual language that revolves around aspirational and symbolic qualities of our material-oriented world. My work tends to hover between a bold figuration and subtle abstraction, and I aim to integrate both aesthetic and conceptual approaches to the medium of painting in a frisky and fluid manner. My work develops in fragments and in close-ups of details, and because of this there is a sense of a wider exploration or investigation with a potential for narrative. The fragment is an important resource in my work to refer to our ways of seeing and of the construction of the self. I am drawn to the ambiguity of images related to the rituals embedded in fashion and beauty industries, as well as how certain western mythologies can impact the construction of the self and desire. The language of painting -with its artifice, illusionism and seductive qualities- serves me as a metaphor to represent the contradictions and complexities behind the concept of identity and 'looks' in our society. I aim to create a fluid and coherent language between the subject matter, source material and the paintings.
Education:
2017-2019: Master in Fine Art, Slade School of Fine Art
2015-2016: Guest student in Prof. Julia Schmidt painting class, Academy of Fine Arts Münster.
2007-2012 Licentiate in Art, Pontificia Universidad Católica de Chile.
Exhibitions:
Selected recent group exhibitions
Group Exhibitions
2019 Slade Graduate Show, Slade School of Fine Art, London UK
2018 Interim Show, Slade School of Fine Art, London, UK
2018 The Field, ASC Gallery, London, UK
2017 Imagen Vibratoria, bajo el paraguas de su reproducción, Quito, Ecuador
2017 27 painters, XS Gallery, Santiago, Chile
2016 XI MAVI ESCONDIDA Award. Young Contemporary Art, Visual Arts Museum (MAVI), Santiago, Chile
2016 Förderpreis Exhibition, Kunsthalle Münster, Germany
2016 Rundgang2016, Kunstakademie Münster, Germany

Recent Activity