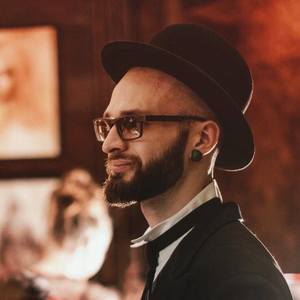 Follow
Grishanti Holon
Moscow, Russia
About Grishanti Holon
Visionary artist, photographer, art-curator from Moscow. The author of FRAppism: Fantastic Realism created by mobile Apps. This is a technique of using software resources of mobile devices, allowing to recreate the laws of optical refractions arising in altered states of consciousness, studied by the author earlier, in experiments with holotropic breathing, sensory deprivation and entheogens. The process of deep recognition of these images is based on the meditative selection of the corresponding parameters of specular reflections and digital overlays, while the picturesque effect is achieved using neural network algorithms. The task of this type of visionary art is to cause the audience, who in the past had experience of altered states of consciousness, visually returning to these states and healing the negative aspects of perception, making it clear that the perceived images are not subjective hallucinations, but some perceived by everyone and no less important - translated by everyone. For from a technical point of view, the use of a mobile phone as the main instrument of creativity equalizes the viewer and creator, clearly demonstrating that thanks to modern technologies, the opportunity to express one's creative potential becomes accessible to everyone.
Education:
Theology, St. Petersburg Institute of Theology and Philosophy
class of 2007

Events:
03.2019 - Chuvstvo Ritma: Sands of Sounds @ Gazgolder club
01.2019 - Kotartfest @ Artplay
01.2019 - Genesis - Ambient rave @ Modul Loft
01.2019 - Time Out | Goroda Mira: Cape Town @ Gazgolder club
12.2018 - Print Market "Taste of paper" @ Tsvetnoy Central Market
11.2018 - Burning Man Russia: It's not what it looks like @ Avangarden
11.2018 - AfterHalloween: Saving Titanic - Dusk of Modern Era @ The St. Regis Moscow Nikolskaya
09.2018 - Update: Novoletiye @ Squat 3/4
07.2017 - Midsummer Night's Dream: Garden of Eden @ Serednikovo manor

Exhibitions:
Group Exhibitions:
2019 - "Talent of Russia", Gostiny Dvor, Moscow
2019 - "Visionary Art Trip", Moscow House of Artists, Moscow

Awards:
2019 - "Talent of Russia" - Second and third places in the section "Applied Graphics", nomination "Esoterics and Religion"
2019 - "Talent of Russia" - Second and third places in the section "Art Photography", nomination "Special Photography: Experiments in Photography."

Recent Activity