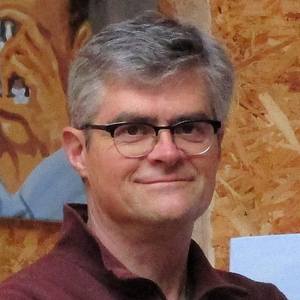 Follow
Jerome Francois
Mondeville, Normandy, France
About Jerome Francois
Born in 1964, he works and lives in Mondeville Normandy (France), painter and teacher at Esam Caen-Cherbourg Art School. He shows his work in France and in other countries. Most of his inspiration comes from cinema, he paints Cinema, he paints movie paintings from biopics movies or other movies he loves. Be it a question of screen, focal or "deja vu" (movie memories), of narration, freeze-frame or abstract composition, we find ourselves face to face with a piece of research which aims to proclaim the perpetuity of painting by Movie painting.
Education:
Master of fine art, Caen Art School 1992.
Exhibitions:
SOLO EXHIBITIONS (selection)

2016 CINEMA, Samdi gallery Caen

2012 Maximalisme (Maximalism) 2Angles Contemporary Art Center, Flers France. (catalogue) http://www.2angles.org/

2007-2008 Maximalisme III (Maximalism) Galerie Paule Friedland et Alexandre Rivault, Paris.

2005 Lino/cut Sémiose éditions, Artothèque de Caen.
http://www.semiose.com/

2005 Basquiat VIII, Galerie L'Unique Caen.

2004 Peintures cinématographiques (Movie paintings), American Film Festival, Deauville.

2004 Maximalisme II (Maximalism), Caen Art School.

2003 Maximalisme I (Maximalism), Galerie Premier Regard Paris, presented by Gilles Fuchs.
http://www.premierregard.com/

2000 Peinture et cinéma (Painting & movie), Caen Museum of Art.

1998 Artothèque de Caen (catalogue).
http://www.artotheque-caen.net.com/

1997 Frac de Basse Normandie Caen.
http://www.frac-bn.org/
GROUP EXHIBITIONS (selection)

2014 Peinture VS Cinéma, Galerie La Ferronnerie Brigitte Négrier, Paris.

2010 Top Départ, Galerie Dubois-Friedland, Brussels.

2008 Migration1, Paris/Cordoue, casa Gongora, Cordoba.

2006 Bridge Art Fair Miami.

2005 Voilà l'été, Galerie Paule Friedland et Alexandre Rivault, Paris.

2002 Peinture/figure/peinture, CD Art Center Hong Kong, Afaa, Philippe Piguet curator.

2002 Collection 4, il était une fois, Frac Alsace.


2001 Peinture/figure/peinture, Metropolitan Museum Manilla, Afaa.
Recent Activity