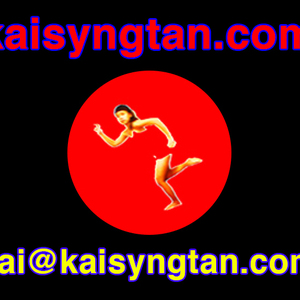 Follow
Kai Syng Tan
London, Greater London
About Kai Syng Tan
"˜Tan Kai Syng is one of the most prolific young artists of Singapore. Well versed in video, sound and electronic media, she has created wide ranging works bordering between discourse and personal reflection. Her works often reveal her sardonic humour but also a sharp intelligence which makes her a self reflexive, incisive artist of South East Asia now. [...] Being a versatile straddler between academician and practising artist demonstrates her agility in moving between different fields of knowledge as well as diverse disciplines. She has a wryness which stands her in good stead [...] she is a very talented interdisciplinary artist in search of a medium. She moves restlessly from one medium to another which is art of the joy of her work. She has proven herself to be immensely attractive to students who follow her classes with avid involvement, she can be an amazing source of inspiration'. Singapore Theatre Doyen Keng Sen Ong, 2009. Named "˜one of Singapore's foremost video artists' (Dr Eugene Tan 2007) and "˜a new media artist to look out for' (Johan Pijnappel 2005), Kai Syng Tan is an interdisciplinary artist, curator, consultant, researcher and educator. Kai is obsessed with "˜reality' in all its shapes: actual, virtual, digital, imagined, invented, manipulated, on screen and off. She performs and explores it from a fiercely personal and playful, position, with a generous pinch of salty irony. Her cine-essays and multi-media installations have been shown in about 400 shows in 50 cities (dOCUMENTA, Transmediale, MAAP, Guangzhou Triennale, Biennale of Sydney, Yamagata International Documentary Film Festival). Venues she has exhibited include ICA London, House of World Cultures in Berlin, MOMA, ZKM, Seoul Museum of Art and Tokyo Metropolitan Museum of Photography, and artists she has been billed with include Yayoi Kusama and Song Dong. She has collaborated with a range of creative people and professionals including curators (Lanfranco Aceti; Christiane Paul; Dr Charles Merewether; Rirkrit Tiravanija; Jeremy Hight; Kwok Kian Chow; Keng Sen Ong), dancers (Butoh expert Matsubara Toyo; SOKA Singapore), directors (Philip Tan; Ivan Heng), musicians (composer and laptop performance expert Professor Christophe Charles; Adachi Tomomi; Tamaru; Lindsay Vickery), video artists (Videoart Centre Tokyo's Taki Kentaro and Masayuki Kawai), new media artists (Takano Satoru), fashion designers (Tok Gim Choo), geographers (UCL's Senior Lecturer Dr Alan Latham), data specialists (Centre for the Advanced Spatial Analysis researcher Dr Fabian Neuhaus) and urban planners (Chuthatip Achavasmit). Her curatorial work includes multi-media extravaganzas (with a Dumb Type dancer-choreographer at the Tokyo Wonder Site; with musicians and artists at the Singapore Art Museum); film festivals (a South East Asian Film programme at Cinema South Festival next to the Gaza Strip, and the Delhi International Film Festival; featuring the films of Apichatpong Weerasethakul and Liz Rideal). Her "˜live' performances have graced various sites (performance-lecture at the Royal College of Arts in a series that featured Iain Sinclair and Will Self; "˜laptop-performance' with computer music greats Christophe Charles and Carl Stone, and playing as a "˜Nondon Ambassador' during the 2012 "˜Nondon' Olympics). She even sang and danced in front of world leaders (at the Moscow's Dom Musiki in 2008). When not making a fool of herself on the international stage, Kai works slavishly behind the scenes as an advisor (Media Development Authority of Singapore), and for nearly a decade lectured in fine art, media art and film, and led a video art degree programme in art universities and film schools in Singapore. She has spoken in various conferences and contexts including addressing, as keynote speaker, 1000 teachers and principals about art education in Singapore, and evangelising about new forms of the "˜documentary' in Cinema Nakano in Tokyo. She has also waxed lyrical about running at DRHA Digital Resources in the Humanities and Arts at Brunel University and Sao Paolo's Soft Borders Conference, and pondered about the state of video art at the Polar Art Museum in Tokyo. Additionally, Kai has published and been written about in Bijutsu Tetcho in Japan, Cinema South Festival catalogue, and a peer-reviewed journal of the University of Minnesota Press. Since 2010, her large-scale public permanent video installation has been on display at a subway Station in the heart of the Civic and Arts and Heritage Districts in Singapore, and has been named by a Singapore newspaper as the top artwork of all subway stations. Recently she was Visual Director of the Singapore performance at the South East Asian Gam
http://www.kaisyngtan.com http://www.leoalmanac.org/lea-new-media-exhibition-interview-with-kai-syng-tan/ http://www.ucl.ac.uk/slade/research/student/current-research/mphil-phd-research/project-5 kaisyngtan.com/3rdlifekaidie
Education:
2009-2013: PhD in Fine Art, Slade School of Fine Art, University College London as a scholar of UCL and National Arts Council Singapore.

2003–2005: Masters of Art (M.A.) in Imaging Arts & Sciences, Musashino Art University, Tokyo, Japan. Award of Excellence. Top student. Distinction.

1994-1998: First Class Honours, B.A. in Fine Art, Slade School of Fine Art (83%).

1996: Exchange Student at School of Art Institute of Chicago, USA.
Events:
WHERE WERE YOU? RECENTLY-COMPLETED EVENTS

Recently I performed How To Stop Worrying and Love (Running). Part of the UCL Art Museum's Time-Based Media Series. The event was 'sold out' on eventbrite, but the reality seemed otherwise. Fortunately I had employed several mates to fill up the space. Have a look at the links below for my related materials.

INTERVIEW: http://blogs.ucl.ac.uk/museums/2014/02/06/how-to-stop-worrying-and-love-running/

PREZI: http://kaisyngtan.com/2014/03/prezi-ucl-art-museum-talk/
Exhibitions:
... and MILESTONES
2014-2015: Visual Director of a large scale event.
2014: Curator of RUN RUN RUN: A Festival of Running.
2013: Visual Director, Closing Ceremony, Handover Performance of the 27th South East Asian Games in Myanmar. Lyricist for the finale song.
2013: Passed PhD Viva in Fine Art, Slade School of Fine Art, UCL.
2013: Museum of London film commission. Artist-In-Residency Award, Slade Summer School.
2012: dOCUMENTA 13, Kassel, Germany, with funding from Slade School of Fine Art.
2012: Sovereign Art Foundation Prize nomination.
2011: Leonardo Electronic Almanac New Media Exhibition.
2011: Travel grant from Graduate School UCL, UK.
2011: Runner & fundraiser for Shelter charity (£1520), Virgin London Marathon.
2010: Artist-In-Residency Award, Villa Straeuli, Winterthur, Switzerland.
2009: Artist-In-Residency Award, Japan Foundation, Beppu, Japan.
2009: Overseas Graduate & Graduate Research Scholarships, University College London, UK; bursary from the National Arts Council of Singapore.
2009: Life! Best Multimedia Design Award for Vagina Monologues nomination.
2008: Guangzhou Triennale, China; Asian Art Biennale, Bangladesh.
2008: Nanjing Triennale invitation, China.
2007: Young Artist Award National Arts Council, Singapore.
2007: Public Commission for permanent public installation, Singapore.
2006: Biennale of Sydney. Exhibition. Artist-In-Residency. Masterclasses.
2006: Artist-In-Residency Award, NIFCA-Theatreworks. Suommenlinna, Finland.
2005: MA in Imaging Arts and Sciences, Distinctions, Excellence Award, top student, Musashino Art University, Tokyo, Japan.
2005: Named 'a media artist to look out for' by curator Johan Pijnappel in Art It.
2003: President's Young Talents Exhibition, Singapore Art Museum.
2002: Scholarship from Japanese Chambers of Commerce Industry for MA studies.
2001: Yamagata International Documentary Film Festival New Currents Shortlist, Japan.
2000: Transmediale. Videos collected by Fukuoka Art Museum, Japan.
1999: Merit Award, New Visions (Video), 42nd San Francisco International Film Festival.
1998-2009: 10 project & travel grants from the National Arts Council of Singapore.
1998: B.A. In Fine Art First Class Honours, top student, Slade School of Fine Art.
1997: Sessional Prize from UCL for outstanding academic results.
1997: Project Grant from Slade School.
1994: Shell-National Arts Council Art Scholarship (£50,000) to read BA in Fine Art in the UK.
1994: 8th Panasonic Video Awards with stop-motion animation, Singapore.
Recent Activity