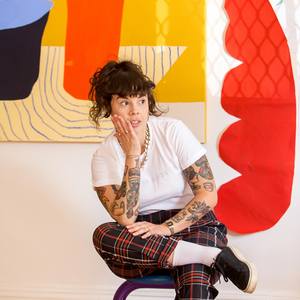 Follow
KATIE ERASER
Brunswick East, VIC, Australia
About KATIE ERASER
Katie Eraser is an Australian contemporary artist currently residing in Melbourne. She creates strikingly colourful, abstract paintings using bold shapes and distinctively loose line work. Primarily concerned with dismantling the agency to chase impeccability and normativity as an end game. The untamed carnage of her own work, via vivid oil pastels staining surfaces, show the creator as destroyer. The artist views her work within the Queer and Feminist constructs, and proudly supports and engages those intersecting identities.
Education:
Bachelor of Design - Billy Blue College of Design, Sydney.
Painting - Self taught.
Events:
Exhibiting Artist - The Other Art Fair, Melbourne, 2017.
Exhibitions:
'Snug Succour' Solo Exhibition
Besser Space, Collingwood, VIC.
February 2 2018.

'Spring Time' Group Exhibition
RVCA Corner Gallery, Collingwood, VIC.
22 September - 15 October 2017.

The Other Art Fair - Melbourne Edition
The Facility Kennsington, VIC.
4 - 7 May 2017.

'Perfection isn't beautiful, Destruction is beautiful.' Solo Exhibition
Boom Gallery, Newtown, VIC.
April 27 - May 20 2017.

Recent Activity