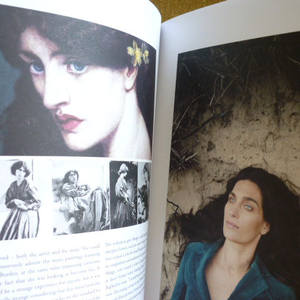 Follow
Margje Bijl
Den Haag, Zuid Holland, Netherlands
About Margje Bijl
I was given a photograph of the Pre-Raphaelite muse Jane Morris and at first glance thought I was looking at myself. Intrigued by our resemblances, I became curious about the woman behind the image. Using self-portraits, I created a role for myself, to complement and modernise her persona. The pencil drawings of Jane's hairstyles have been transformed into leading a life of their own in these new drawings. They reach into the depths of drawing itself. The portraits still show traces of thoughts and stories. In the detail of skin and hair lie labyrinthine landscapes in which the viewer can get lost. The muse gradually disappears from the image and leaves room for other, new stories. New, but anchored in the search for the doppelganger, to the self, to the other. They invite you to look the detail and think about what you can read in it.
Education:
Graduated at the Writers' Academy, 2018
Graduated at 'Koninklijke Academie Beeldende Kunsten' in Den Haag, 2001.
Also studied at 'Academie Kunst Industrie' in Enschede.
Disciplines: photograpy, fine art, drawing and painting.
Events:
I was nominated for the 'van Ommeren de Voogt prize 2018' and awarded with an exhibition in Pulchri. The article is in Dutch. https://www.reflectionsonjanemorris.com/wp-content/uploads/2019/01/pulchrilees72-2.jpg

Lone Wolf magazine featured an editorial called 'The Silent Muse' about my work in their issue #12.
Read the PDF here:
http://www.reflectionsonjanemorris.com/wp-content/uploads/2015/09/MargjeBijlinLoneWolf12.pdf
Exhibitions:
Now:
Pulchri, drawings till 29 March 2020

Previous:
Pre-Raphaelite Sisters Conference, York, 12 & 13 December 2019
Pulchri Studio, Den Haag, small works

June 8 till July 7 2019, Galerie de Molen, Wassenaar
(duo with Willem van Dam) drawing

27 July till 18 August 2019, Pulchri
'Nieuwe aanwas' (group) drawing

21 September till 20 October 2019, Galerie de Molen, Wassenaar
'Landelijke Grafiekmaand' (group)

30 November 2019 till 5 January 2020, Galerie de Molen, Wassenaar
'Petites Surprises' (group)


Pulchri Studio, Den Haag, Najaarssalon
Galerie Atelier Herenplaats, etchings
Wassenaarse Kunstgroep, small works
2018, 2017, 2016 Open Studios Route & Benoordenhuis, the Hague, the Netherlands
2016, Galerie Atelier Herenplaats, Rotterdam, the Netherlands
2014, The William Morris Gallery, London, England
2012, The SieboldHuis, Leiden, the Netherlands
2012, The Mill, London, England
2011, The KunstKerk, Amsterdam, the Netherlands
2010, Stroom hcbk, The Hague, the Netherlands
2010, Galerie de KunstSuper, Rotterdam, the Netherlands (solo)
2009, Galerie Orangerie, Amsterdam, the Netherlands
Recent Activity