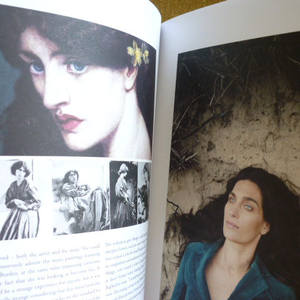 Follow
Margje Bijl
Den Haag, Zuid Holland, Netherlands
About Margje Bijl
I was given a photograph of the Pre-Raphaelite muse Jane Morris and at first glance thought I was looking at myself. Intrigued by our resemblances, I became curious about the woman behind the image. Using self-portraits, I created a role for myself, to complement and modernise her persona. I am represented by Galerie Atelier Herenplaats where I teach mentally challenged persons to work with etchings and linocuts. They have some of my etchings on stock.
Education:
Graduated at the Writers' Academy, 2018
Graduated at 'Koninklijke Academie Beeldende Kunsten' in Den Haag, 2001.
Also studied at 'Academie Kunst Industrie' in Enschede.
Disciplines: photograpy, fine art, drawing and painting.
Events:
Lone Wolf magazine featured an editorial called 'The Silent Muse' about my work in their issue #12.
Read the PDF here:
http://www.reflectionsonjanemorris.com/wp-content/uploads/2015/09/MargjeBijlinLoneWolf12.pdf
Exhibitions:
Coming up in 2018:
Pulchri Studio, Den Haag, small works
Pulchri Studio, Den Haag, Najaarssalon
Pulchri Studio, Den Haag, Nieuwe Aanwas
Galerie Atelier Herenplaats, etchings
Wassenaarse Kunstgroep, small works

Previous:
2017, Open Studios Route & Benoordenhuis, the Hague, the Netherlands
2016, Galerie Atelier Herenplaats, Rotterdam, the Netherlands
2016, Open Studios Route & Benoordenhuis, the Hague, the Netherlands
2014, The William Morris Gallery, London, England
2012, The SieboldHuis, Leiden, the Netherlands
2012, The Mill, London, England
2011, The KunstKerk, Amsterdam, the Netherlands
2010, Stroom hcbk, The Hague, the Netherlands
2010, Galerie de KunstSuper, Rotterdam, the Netherlands (solo)
2009, Galerie Orangerie, Amsterdam, the Netherlands
Recent Activity