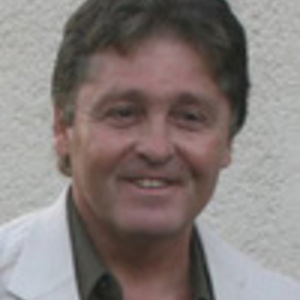 Follow
Cris Orfescu
Los Angeles
About Cris Orfescu
Born in Bucharest, Romania, lives and works in Los Angeles since 1991.
35 years of experimenting with different media and being involved in a variety of projects: NanoArt, digital art, murals, acrylic and oil painting, mixed media, faux painting, trompe loeil, graphics, animation, web design, logo design, and a backdrop for a TV show.
Over 20 years of experimenting and perfecting a new art form, NANOART, which reflects the transition from Science to Art using Technology.
Self-taught artist.
International and national art exhibitions, awards, commissions, public and private collections.

I create Art from Science using Technology.
My art is a reflection of the technological movement. I consider NanoArt to be a more appealing and effective way to communicate with the general public and to inform people about the new technologies of the 21st Century. NanoArt is intended to make the public aware of Nanotechnology and how will this impact our lives. Nanotechnology deals with the synthesis, manipulation and characterization of matter at the sub-100 nanometers level. Nanotechnology is still an emerging area although commercial products are already on the market. Nanotechnology is a very powerful combination of technologies that could be extremely beneficial or extremely dangerous, including life threatening. I think the best way to keep things under control is Knowledge. Not only governments and military should know about these developments, but the general public at large should be informed. My images, being attractive to the public from the esthetic point of view awaken the curiosity of my audience. As a result, people ask questions and have open discussions around these new technologies, and this is good because people will make informed decisions.
I bring the small world in front of my audience through high resolution electron microscope scans of natural micro or nanostructures and nanosculptures I create by physical or/and chemical processing. I paint and manipulate digitally the monochromatic electron images and print them with archival inks on canvas or fine art paper. This way, the scientific images become artworks and could be showcased for a large audience to educate the public with creative images that are appealing and acceptable.
NanoArt is not Photography. The depth and three dimensions achieved in NanoArt sets this process of electron imaging apart from Photography, where images are created by photons (particles of light) rather than by electrons (electrically charged particles). The electrons penetrate deeper in the structure creating images with more depth, more natural 3D-look than the photographic images.

Education:
Awards
March 2006, Los Angeles, California, USA - Winner in the international juried competition TOP 40 at Los Angeles Center for Digital Arts
February 2006, London, UK Diploma of Excellence in the international juried competition REAL-TIME
September 2005, Los Angeles, California, USA - Winner in the 2006 Emerging Artist Calendar juried competition
August 2005, London, UK - World of Art Award for the Best in Art and Creativity May 2005, Beverly Hills, California, USA - First Place Award in the New Media category at the AFFAIRE IN THE GARDENS art show
October 2005, Burbank, California, USA Honorable Mention - juried competition September 2005, Rome, Italy Finalist in the DIGITALLY 2005 juried competition
May 2005, Santa Monica, California, USA - Honorary Best in Show Award - Backstreet Gallery juried competition
December 2004, Rome, Italy - Finalist in the BEYOND BOUNDARIES 2004 juried competition

Selected Exhibitions
March 2008, Florence, Italy SCIENZA ED ARTE University of Florence
December 2007, La Jolla, USA NANOART EXTRAVAGANZA Nano Tumor Center, University of San Diego
November 2007, New Jersey, USA - EYE TRICKS - Walsh Gallery, Seton Hall University
September 2007, Paris, France - OPEN ART 2007
April 2007, Kotka, Finland - The 1st International Festival of NANOART
February-March 2007, Long Beach, California, USA - 1st LA INTERNATIONAL ART FESTIVAL
November 2006, Chania, Greece THE 4th INTERNATIONAL ART FESTIVAL CHANIA 2006
November 2006, Los Angeles, California, USA - jFerrari Gallery group show
November 2006, Dublin, Republic of Ireland - ART IRELAND
November 2006, San Diego, California, USA - FEATURED ARTIST at Gallery Studio 246
April-July 2006, San Pedro, California, USA ON SITE AT THE GATE 2006, juried exhibition, Angels Gate Gallery
April-June 2006, San Diego, California, USA 2006 INTERNATIONAL DIGITAL EXHIBITION, sponsored by SONY at the Museum of the Living Artist, SDAI
April 2006, Manizales, Colombia THE 5th INTERNATIONAL FESTIVAL OF THE IMAGE, Caldas University
April 2006, Anchorage, Alaska, USA SOFTCOPY, Kimura Gallery, University of Alaska
March 2006, Los Angeles, California, USA TOP 40, juried exhibition, Los Angeles Center for Digital Art
February 2006, Los Angeles, California, USA group show, Infusion Gallery
January-February 2006, Murfreesboro, Tennessee, USA - 12 X 12, A National Juried Exhibition of Small Scale Works of Art Todd Gallery, Middle Tennessee State University
December 2005, Florence, Italy - THE 5th INTERNATIONAL BIENNALE OF CONTEMPORARY ART, Fortezza da Basso
December 2005, Miami, Florida, USA - MASTERS MYSTERY ART SHOW 2005
September 2005 March 2006, Binghamton, New York, USA - THE 15th INTERNATIONAL MINI PRINT EXPO, Roberson Museum and Science Center
October 2005, Beverly Hills, California, USA - AFFAIRE IN THE GARDENS
October 2005, Burbank, California, USA LEARNING AND PRODUCT EXPO: ART, Hilton Airport and Convention Center
September-October 2005, Los Angeles, California, USA - SNAP TO GRID, Los Angeles Center for Digital Art
August-September 2005, Pomona, California, USA - THE 2nd LATINO ART BIENNALE, Museum of Latino Art
July 2005, Las Vegas, Nevada, USA - WORLD MARKET CENTER DEBUT, Las Vegas Convention Center
June - July 2005, Hermosa Beach, California, USA - HERMOSA BEACH ART WALK
June 2005, Los Angeles, California, USA - Bank of America Plaza
May 2005, Beverly Hills, California, USA - AFFAIRE IN THE GARDENS May 2005, Santa Monica, California, USA Santa Monica Civic Auditorium
April 2005, Los Angeles, California, USA - NANOART and PHOTOGRAPHY
February 2005, North Hollywood, California, USA - TWO MEN SHOW
November 2004, Los Angeles, California, USA NANOART 2004, solo show,
Events:
Future Shows:

May-June 2008, Cerritos, California, USA - Multimedia show
July 2008, La Jolla, California, USA - NanoArt solo show, University of San Diego


Recent Activity