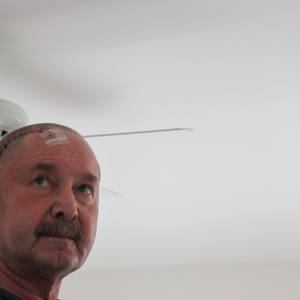 Follow
George Nasse
Commerce Township, MI, United States
About George Nasse
So in October of 2014, I was found by my wife ,lying on our livingroom floor doing agonal breathing. Following a tortuous encounter with the EMS, and a MRI, a tumor was found on my brain. My dad had a brain tumor. It was resected and he died a year later. This was the most agonizing period of my life. My own out look appeared grim, while considering my options. We chose surgery and I am still recovering. What effect would this have on my digital creations? Only time will tell..I hope that the my remaining story will appear Creative. Loving nature, being an integral part of the environment, seeing the universal Spiritual connection that we are all part of; has led to my entrance into the realm of Digital Creations. Being a creative Spiritual being I've entered this technological portal into an expansive Artistic reality. I am discovering a myriad of subtle colors, light, textures, patterns, and seemingly endless Creative possibilities in the realm of digital manipulations. I hope to share my vision and to communicate this ongoing adventure through this newly opened creative artistic realm. I am fascinated to discover each digital creation, enjoying an added expression within the unity of all nature and the universe, leading to a deeper Spiritual understanding and an appreciation of further possibilities of unfolding beauty and reality.
Education:
I've attended Kent State University, Baldwin Wallace college, The University of the Americas, Mexico, and Ohio State University, Holding a BS Degree in Biological Sciences, a minor in Chemistry, and Art.
Events:
I've just recently begun to pursue selling my art work. In the past I've produced portraits of friends and family and gifted them. I now hope to use the profits to fund my charitable contributions and my expenses in the continued pursuit of artistic ventures and fighting hunger and poverty in the USA.
Recent Activity