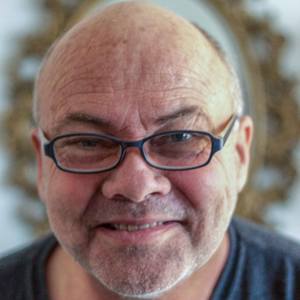 Follow
Richard ChauDavis
San Diego, CA, United States
About Richard ChauDavis
I have a Patreon Site www.patreon.com/rbcdart. Please sign up at the 'coffee enabler' ($1 a month). I post on Patreon constantly, not only my current finished art but process videos, proofs, destroyed works... anything I do that is art related.
Education:
UCSB College of Creative Studies, BFA Drawing and Painting
Events:
I was born 8/29/1956 in Greenwich, Connecticut, a desired baby. My older sister Lora died a crib death. Moved with family on an average of every two years... Currently living in San Diego (35 years). Graduated with a BA in painting and drawing from UCSB's, College of Creative Studies (a graduate program with an undergraduate degree).
Currently in several private collections, mostly other artists. Besides 3 one person shows at SDAI, there been numerous group shows, Larry Caveney's Garage Gallery, Lori Lipsman's 'Vacancy Series', 'No Tell Motel' with Joe Flazh!. Roberta Kuntz and I created and ran ArtGymSD. Laura Mappin and I ran a one-week installation called 'Pajama Party'.
Exhibitions:
http://www.patreon.com/rbcdart
Recent Activity