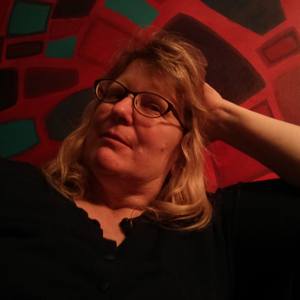 Follow
Sue Gentry
Victoria, BC, Canada
About Sue Gentry
www.suegentry.com I was born in Ruislip, England in 1956. Raised on the road in Europe and America until landing in Victoria B.C. Canada in 1976. My process is first to forget I ever went to Art School. Then I am empty and free to be available . . . hours and days may pass, and the painting is done. Being in this beautiful calm field of creation, this is where my truth is. You have to let go to show up. Each of my paintings reveals more of who I am. Each one a parent to the next. Interdependent.
Education:
Dropped out of:
Vancouver Island College of Art ~ Victoria, B.C.
Emily Carr School of Art ~ Vancouver, B.C.
Kwantlen College - Fine Arts Dept. ~ Surrey, B.C.
Exhibitions:
May 2016
Dales Gallery ~ Group Pop Up Show ~ Acrylic Paintings

April 2015
Dales Gallery ~ Solo Exhibition ~ Acrylic Paintings

January 2013
Fifty Fifty Arts Collection ~ Group Show ~ Oil Painting

November 2010
Blue Bridge Art Exhibition ~Group Show ~ Sculpture
Recent Activity