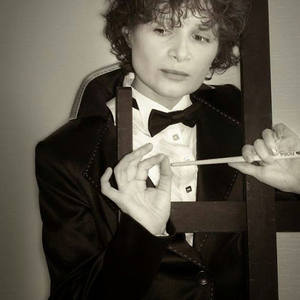 FOLLOW
Olga Akasi
Kiev, Ukraine
About Olga Akasi
Born in Kiev (Ukraine), 1970. Lives and works in Kiev. "Ukrainian artist, the unique in the Ukraine, who works in the technology of old masters, without being neither the restorer, nor the museum worker. Akasi is an artist of the new generation with an original manner and theme characteristic for all her works. However, she never follows methods of actual art specializing in criticizing the public taste or perception standards. The artist has worked out her own aesthetic worldview through the prism of poetry. Her creative range is rather wide and includes the best in painting from Renaissance to contemporary period. What runs all through Olha Akasi's creative work, in addition to her style and technique, is stress on images according to which one can live" (The Day Newspaper). "For our so-called post-human society, where not only "God is dead", but also, together with him, man is, Olga Akasi as an artist (and, mainly, as a portraitist) gives a rebirth to the human. This idea is reflected brilliantly in Akasi's images which we may call phainomena, or those which appear and are present in light (of soul) and its reflections". Valeria Gavrilenko, Ph.D, National University "Kyiv-Mohyla Academy" All works are original, not copies and not imitations.
Education:
Graduated from an art school with honors, her studies at Grekov College of Fine Arts, Odessa (Painting Depart.) and continued her practice in museums of Moscow and Saint Petersburg. Studied the manner of Durer, Tizian, Rembrandt, etc. The beginning of public art activity: 2004-2005. Artwork in private collection Netherlands, Japan, UK, France, Ukraine, Russia, USA.
Events:
AkasiArtStudio was opened in 2011 as an independent exhibition space and creative studio of Olga Akasi, the Kyiv artist of classical direction. Basic kind of activity of the studio and Olga Akasi the artist is a classical portrait in the best traditions of Old Masters. The gallery presents works by Olga Akasi and it is a ground for meetings with the artist and her partners. In the same time it is a place where the person who would lik e to be portrayed by Olga Akasi has sit tings for personal portrait. AkasiArtStudio it is also small private academy where master works with students, mainly adults, who would lik e to perfect their skills in fine art.
Exhibitions:
2005. The personal exhibition «All Fuss of the Earth Was Gliding Past… ». The Gryphon Gallery, Arthur Grell, curator
2005. The collective exhibition of the artists of 2005. The Gryphon Gallery
2005. Creative trip to Japan under the invitation of the collector. Tokyo, Kyoto. "Following the brush", Series of Exhibitions & Round-table discussions.
2005-2006 The artworks were exposed in Lada Gallery, Sofiyskaya Gallery etc.
2007. Solo Exhibition. «Unhurried Soft Touch»». Painting, Portrait. Arthur Grell, curator, Gallery «Срібні Дзвони», Кiev
2007. Art-Kiev-2007 International Art Fair.
2008. Art-Kiev-2008 International Art Fair.
2008. Luxury Temptation Fairy Fair. The Second International Luxury Exhibition. The personal project.
2009. Ukrainian Art Week: International Exhibition of Contemporary Arts. Central House of Artists of National Artist Union of Ukraine
2009. Luxury Temptation. The Third International Luxury Exhibition. Auction. Exhibition. Alex Art House, Kiev, Ukraine.
2009. Participation in the project of a writing of the book of fairy tales «Magic fairy tales of soul».
2009. Сigar Clun Evening. The hotel Vozdvyzhensky.
2010. Art-Fair "Fine Art in Interior". The Spiritual Treasures of Ukraine Museum, Kiev.
2010. The Jewellery House ZARINA. Offical Painting and drawing presentation. The Jewellery House ZARINA. Kiev.
2010. One Picture Show Series. Autumn-Winter, 2010. Within the bound of «The Successful Women Club». (Old Vienna Hotel, The medical center «Porcelain», The jeweler house «Zarina», InterContinental Hotel etc).
2010-2011. Participation in charitable auctions: «Artists to Children» (The center of children's cardiology and heart surgery, on April, 28th 2010), Charitable Christmas Presidential Ball of Kiev Сigar Club (December), Charitable Auction of Big Smoke Kiev Сigar Club Ball (March 2011, August),
2011).
2011-2012. Personal exhibition «By Dream's Lips in Harmony of Silence». Kiev Cigar Club
2012. The personal exhibition «Be Master». The Centre of Contemporary Art, Vinnytsya
2013. Выставка работ в рамках Винного бала (Алушта, спа-отель Море)
2013. Презентация новых работ (партнерская программа): "Солом'янська броварня" (Киев), Гостинично-ресторанный комплекс «Царьград» (Киев).

Recent Activity