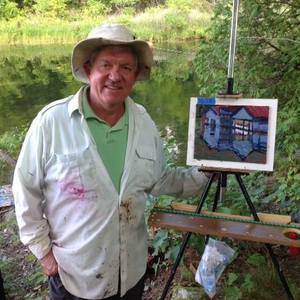 Follow
Phil Chadwick
About Phil Chadwick
An avid canoeist, Phil believes that a fully equipped paradise needs only a quiet back lake, a canoe, art supplies and a fishing rod. Born in the Thousand Island Region of Ontario, Phil has traveled the width and breadth of Canada before settling in southern Ontario. The inspiration for the next painting is right around the corner.

Started painting with the late Mario Airomi in 1967 and never stopped. Started drawing seriously much sooner probably around 1957.

Education:
Trained at Queen's University as a nuclear physicist.
Meteorologist for Environment Canada since 1976 specializing in severe weather.
Operates a small farm complete with 100 year old barn, an orchard, a growing forest and a 1969 Massey Ferguson Tractor!
Horses and cattle come and go annually at the farm.
An avid canoeist and naturalist.
Apiarist (bee-keeper since 1994).
Active "birder" and bird house builder.
Occasional writer for Harrowsmith and other nature oriented magazines.
Artwork in many private and corporate collections
Several magazines and calendars have used Phil's art
Gallery shows across Canada
Canadian Meteorological and Oceanographic Society (CMOS) Tour Speaker 2005-2006
Creative Scene Investigation (CSI) and Forensic Meteorology Presentations
Southampton Art School - 2006 International Lighthouse Conference Artist-in-Residence
,
Events:
Future Shows: Algonquin Art Centre
The Framing Place Gallery, Huntsville, Ontario.
The Georgina Arts Centre and Gallery, Sutton, Ontario.
The Southampton Arts School, Southampton, Ontario.
Recent Activity