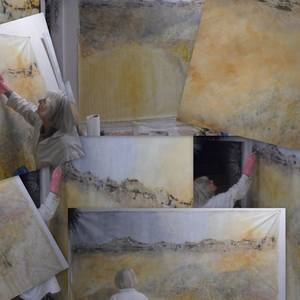 Follow
ESTEVES DE COOMAN
MONTCLAR, OCCITANIE PYRENEES MEDITERRANEE, France
About ESTEVES DE COOMAN
Artiste autodidacte depuis 1997. Auparavant expression par le biais de l'ecriture poesies. Inscrite a  la MAISON DES ARTISTES. Après 13 ans de présence à CARCASSONNE dans un atelier-galerie que je partageais avec ma fille egalement peintre. ( voir son site sur www.saatchiart.com/evelyne.dominault ) nous venons de déménager pour un atelier à la campagne, 18 km de CARCASSONNE, dans un parc au coeur du Massif boisé de la Malepère. Cet environnement de nature nous apportera une nouvelle inspiration.Self-taught artist since 1997. Previously expression through poetry writing. Registered at the MAISON DES ARTISTES. After 13 years of presence in CARCASSONNE in a workshop-gallery that I shared with my daughter also painter. (See his website on Saatchi.com/evelyne.dominault) we just moved to a workshop in the countryside, 18 km from CARCASSONNE, in a park in the heart of the Malepère Massif. This environment of nature will bring us a new inspiration. Mes couleurs sont proches des des teintes naturelles de terre, oxyde, rouille. Je travaille essentiellement avec des couteaux, rouleaux. Peinture acrylique et pigments. Les peintures peuvent etre tres fluides ; d'autres sont faites couche par couche pour des effets d'epaisseur, strates. Les traces me rappellent des visions de terres seches. La peinture evoque des ressentis durables suite aux emotions. J'ai vecu a  bord de voiliers pendant 15 ans. Je garde en memoire des images de grands espaces de liberte. J'aime l' abstraction qui permet de rever ; on peut reconnaitre des horizons des bords de me mer. La philosophie et la psychologie m'ont toujours interessee ; ma peinture est une recherche a l'interieur de moi qui touche mon subconscient et l'inconscient collectif. les travaux actuels se repartissent entre deux milieux marin et terrestre. Les souvenirs de la vie marine ont laisse des empreintes indelebiles dans la memoire. Elles se manifestent par des toiles d'horizon tres pures. Elles nous transportent dans des dimensions ou la figure humaine n'apparait pas. Seule l'emotion de ces immensites transparait. Ma vie actuelle me permet d'apprecier de larges horizons sur les Corbieres et les Pyrenees. Ce sont ces visions quotidiennes qui surgissent sur les toiles. Ce ne sont pas des peintures " in situ " mais le ressenti face a  ces collines, ces montagnes, ces differents plans de nature. Les couleurs toujours changeantes, grace a  la lumiere inconstante, aux nuages, au vent, avec pour mon plus grand bonheur, des levers et couchers de soleil somptueux. Collections privees nationales et internationales Oeuvres chez VICTORIA'S GALLERY Ã  BIARRITZ - 9/28/2014 - ARTIST OF THE DAY - SAATCHIART 9/22/2014 - ARTIST OF THE WEEK - SAATCHIART - ARUNDEL ART ROOM - ARUNDEL U.K. paper's paintings depuis nov.2014 et peintures sur toile Sélectionnée 21 fois depuis janvier 2014 dans les collections Saatchi. J'apparais dans le Répertoire des peintures des 20ème et 21ème siècles du MUSEE DES BEAUX ARTS et de la Ville de CARCASSONNE - édité en janvier 2013. "The painting of French artist Jacqueline de Cooman transits alien to the traditional concept. The compositions are loaded dualities between reason and emotion, matter and spirit, are between a combination of abstract elements and realistic elements "(Jose Roberto Moreira, curator and gallerist). Le bitume, le brou de noix, les noirs très secs, pratiqués au couteau, au rouleau, plus rarement au pinceau, sur des formats très grands, également sur des carrés de 100 sur 100 , l'aident à faire monter ses univers et ses paysages de l'âme où la Saudade revient comme un refrain.(Nicole Fourbil Delzongle ) 9/28/2014 : T OF THE DAY - SAATCHIARTElle rejoint les altitudes minérales des Pyrénées, qu'elle contemple Toutes les peintures sur toile sont vendues prêtes a être accrochées, sauf précision contraire. Depuis Janvier 2014 : 21 SELECTIONS par l'équipe SAATCHIART. I appear in the Directory of the paintings of the 20th and 21st centuries of the MUSEE DES BEAUX ARTS and the City of CARCASSONNE - published in January 2013.
Education:
Je suis une autodidacte inspiree et passionnee.
Les artistes que je venere sont : ROTHKO MALEVITCH SOULAGES KLEE HOPPER POLLOCK NICOLAS DE STAEL ...
Events:
iShop in the City à l'Atelier Galerie, rue Chartran à ... - YouTube
Images intégrées 1▶ 5:35
https://www.youtube.com/watch?v=TfxXfVekh_8
Il y a 15 heures - Ajouté par Aude Chérie
Les artistes peintres Evelyne Dominault et Jacqueline Esteves de Cooman, nos invitées aujourd'hui, sont ...nterview

https://www.youtube.com/watch?v=WBGaefyIs9g
petit film sur la réalisation d'une grande peinture au sol


En dehors de l'atelier-galerie où mes oeuvres sont exposees et visibles librement en permanence sur rendez-vous.
Je fais des expositions solos plusieurs fois par an dans le grand sud-ouest ou à l'étranger.
Exhibitions:
COULEUR INTERNATIONALE - 22 juin au 22 septembre 2019 - MAISON GRAMONT - FANJEAUX - Aude - France : 30 artistes peintres, sculpteurs, céramistes de renom. ouvert tous les après-midis de 15 à 18h30.


.PARTICIPATION A LA MANIFESTATION " LES PAPILLONS DE CARPENTRAS " 200 toiles d'artistes au travers des rues de CARPENTRAS ( Vaucluse - FRANCE ), les mois de JUILLET et AOUT 2019.


EXPOSITION " CORPS ET AMES " - J.ESTEVES et EVELYNE DOMINAULT
CENTRE ULYSSE - LAMALOU LES BAINS ( hérault )
12 au 24 MAI 2019
Vernissage 11 mai : 18-20h
PEINTURES - SCULPTURES



IMAGINARIUM - MONTOLIEU - Village du Livre - LA MANUFACTURE ( AUDE ) - 2 week-ends : 14 au 16 décembre 2018 et 21 au 24 décembre 2018.

- EXPOSITION " METISSAGES " -
CREATEURS DU HAUT CANTON

BEDARIEUX - HERAULT
du 2 janvier au 8 février 2019

- SALON de BOUJAN ( HERAULT )
vendredi 25 mai au samedi 2 juin 2018.

- Festival International d'Art Contemporain

Les Papillons 2018 - 10ème édition

"THE BUTTERFLIES OF CARPENTRAS"

An international street festival of contemporary art
JUILLET - AOUT 2018
www.lespapillons.org

- EXPOSITION " COULEUR INTERNATIONALE 2018 "
FANJEAUX - AUDE - OCCITANIE
16 juin au 16 SEPTEMBRE
Ouvert tous les après-midis, tous les jours.
Peintres, sculpteurs, céramistes européens pour une exposition de très grande qualité dans un bâtiment de briques surprenant. Surprise et admiration garanties.




EXPOSITION " COULEUR INTERNATIONALE 2017 "
FANJEAUX ( AUDE ) Maison Gramont -
du 17 juin au 17 septembre 2017.
29 artistes contemporains Européens : peintures, sculpteurs, céramistes, dans un cadre magnifique.
J'expose 11 toiles.
www.art-fanjeaux.fr



EXPOSITION 29 JUILLET /15 AOUT
2016 A MARCIAC :GERS FRANCE PENDANT LE FESTIVAL JAZZ A MARCIAC AU "GARAGE ARTISTIQUE" AVEC DOMINAULT EVELYNE - au 109 rue des arènes -
ouvert tous les jours de 10 h à 18 h.


www.fanjeaux.xyz
EXPOSITION DU 17JUIN au 17 SEPTEMBRE 2016
SALLE GARCIN - FANJEAUX - Aude
ouvert tous les jours de 15h30 à 18h30
28 peintres, céramistes, sculpteurs dans 7 salles -
exposition de grande qualité



TOQUES ET CLOCHERS - 1ère BULLE
11250 POMAS
18 au 21 MARS 2016

COULEUR LOCALE 2015 - 26 JUIN au 20 SEPTEMBRE 2015
SALLE GARCIN
11 FANJEAUX FRANCE

EXPOSITION PEINTURES SUR TOILE ET SUR PAPIER à la GALERIE
ARUNDEL ART ROOM - ARUNDEL - U.K

du 17 au 30 mai 2014 - 12 peintures exposees à LISBONNE - PORTUGAL
COLORIDA GALERIA DE ARTE
1999 à 2013 : 20 expositions solos - France et Belgique
41 expositions collectives - France

en 2014 - EXPOSITION CHAPELLE PETIT GIMER - sous la CITE MEDIEVALE DE CARCASSONNE - du 6 au 20 Juin
Recent Activity