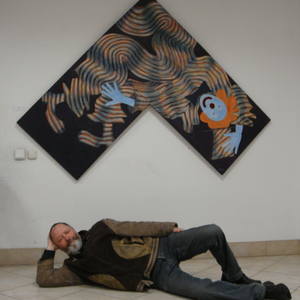 Follow
George Pedder-Smith
HOXNE
About George Pedder-Smith
You can find me in Facebook under the name George Pedder-Smith and you can find more of my artworks at http://art-work-sss.tumblr.com/
Exhibitions:
Recent exhibitions
Solo at the National Gallery of Contemporary Art, Minsk, Belarus, July 2009
Solo at the Gallery of the Grodno Association of Artists, Grodno Belarus, August 2010
Solo at the Vaschenco Gallery, Gomel, Belarus, September 2010
Solo in Druskininkai, Lithuania, April, 2011.
Group exhibition, Vilnius, Lithuania, October 2012
Solo at the Gallery of the Association of St. Petersburg Artists, St. Petersburg, Russia, June 2013
Numerous group exhibitions in Poland.
Solo show at Art Refuge Alberts, Riga, Latvia, July 2015
Solo exhibition 'Turbulence' at the Novi Zamok (New Castle) Art Museum, Grodno, Belarus, October 2015.
Recent Activity