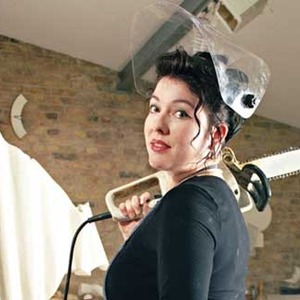 Follow
Dolores Flores
Berlin
About Dolores Flores
An American artist and musician of German / Mexican decent, born 1964 in Berlin Germany. From 1965 -1983 in Sonoma County California, U.S.A. Installation Sculpture - Texts - MusicAudio - visual room installation, three dimensional, narrative and contemplative. Exploring issues of consciousness on a parallel level of personal reception. Music an essential component used to stimulate the viewers emotions and imagination. Focusing on time, lifes cycle, evolution, and personal space. Texts spoken and sung in German and English, creating a dialogue with the viewer. An interactive musical, visual encounter. The sculptural work is strictly created in wood : carved, assembled, gilded and painted. Uniting abstract form and refined structure with aesthetical priority. Formed with poise and balance, devoted to formal tenacity, and consciously majestic.
Exhibitions:
2015 "Glück und Zufall" (S), multimedia installation and luminescent objects. Exhibition in the a.i.p. experimental space Südheide, Germany.
2014 "Play it by ear "(S), luminescent installation and object boxes. Exhibition in the a.i.p. galerie Berlin, Germany.
"The spirit and the moment" (S), Object boxes and photography. Live concert "The mellow moment". Kabinett im Museum, Berlin, Germany.
2013 "Freunde der Galerie", Object Boxes, Galerie Kuhn und Partner, Berlin.
"Amplitude of thought" (S) Multimedia Installation, Video, luminescent object boxes. a.i.p. galerie, Berlin.
2012 "Sculpture" (S) Exhibition of sculptures from 2000 - 2012 Palace Hotel, Berlin Germany.
Recent Activity