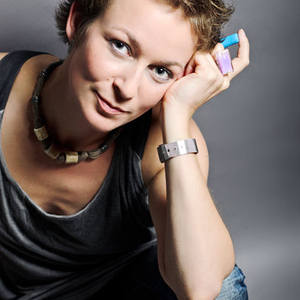 Follow
Olga Abramova
Moscow, Russia
About Olga Abramova
I'm best known as a graphic artist. My preference is to work in dry pastels but I also use whatever comes to hand, from coal to acrylic. I have been especially interested in working on atmospheric pictures, where light and color play on each other, creating a new reality. In all my artistic works, I try to conceal form in the atmosphere, but it doesn't always work out this way, particularly when the form itself is sufficient.
Education:
Moscow College of Applied Art,Weaving faculty.
Moscow State Opened Teacher's University, Art-graphic faculty.
Exhibitions:
2019
100th Аnniversаry of China Pastel. Ming Gallery, China, Suzhou

19th International Pastel Festival of Feytiat,France – Award "Le Coup de Coeur 2019"

IAPS 34th Juried Exhibition Albuquerque, NM, USA - Gold Award

2018
"ARTLIFE-FEST", Moscow, Exhibition & pastel demo-class
"PASTEL ART EXCHANGE AND COOPERATION", International festival, Istanbul

20z7
"PRESENCE", solo exhibition IZO Art Gallery, Romanov Dvor, Romanov Pereulok 4
"PASTELS", solo exhibition DETAILS School of Design, Moscow, ul. Spiridonovka 4

2016
"AESTHETICS IN CONTEMPORARY ART" Moscow, House of Cinema

2015
"ARTTRAND" Saint Petersburg , Stieglitz Academy
"EXPOSED" Together with "Flowers in the Details" in gallery Exposed, Moscow
Arttrend 2

2013- 2014
"USELESS BEAUTY" Central House of Artists, Moscow, Russia
"SMALL WONDERS" LINEA. Spazio Arte Contemporanea. Florence, Italy

2012
"GRAPHIC ARTS FAIR" Novy Manezh - Exhibition Hall, Moscow, Russia

2011
"PASTELS" Solo exhibition, Zelenograd, Russia
"GRAPHIC ARTS FAIR" Novy Manezh - Exhibition Hall, Moscow, Russia
"PASTELS" Solo exhibition, Zelenograd, Russia

2010
5TH "GRAPHIC ARTS FAIR" Novy Manezh - Exhibition Hall, Georgievskiy pereylok, 3/3, Moscow, Russia

2008
"ART-MANEG" Manegnaya sq, 1, Moscow, Russia
MOSCOW INTERNATIONAL ART SALON "CHA'08" The Central House of Artist, Moscow, Russia
4TH "GRAPHIC ARTS FAIR" Novy Manezh - Exhibition Hall, Georgievskiy pereylok, 3/3, Moscow, Russia

2007
"ART-MANEG" Manegnaya sq, 1, Moscow, Russia
MOSCOW INTERNATIONAL ART SALON "CHA'O7" The Central House of Artist, Moscow, Russia

2006
"ART-MANEG" Manegnaya sq, 1, Moscow, Russia
5-6 ART SALONS "BEST GALLERIES" Info Space, International informational exhibition center, Moscow, Russia
MOSCOW INTERNATIONAL ART SALON "CHA'O6" The Central House of Artist, Moscow, Russia.

2005
MOSCOW INTERNATIONAL ART SALON "CHA'O5. HABITAT" The Central House of Artist, Moscow, Russia
"PASTELS" Solo exhibition. Exhibition hall of prefecture, Zelenograd, Russia

2004
MOSCOW INTERNATIONAL ART SALON "CHA'04. ENVIRONMENT" The Central House of Artist, Moscow, Russia

2003
"BIENNALE INTARNAZIONALE DELL ARTE CONTEPORANEA" Organizer - Arte Studio. Fortezza da Basso, Florence, Italy
"PASTELS" Solo exhibition. Organizer - Piter Biman. Franeker, Frizland province, Holland
MOSCOW INTERNATIONAL ART SALON "CHA'O3. NEW GENERATION" The Central House of Artist, Moscow, Russia
"ASHRAM" Organizer - Association of artists-teachers. Gallery "Na Peschanoy", Moscow, Russia

2002
"EXHIBITION OF RUSSIAN ARTISTS" Korea's culture center, Moscow, Russia
"THREE ARTISTS" Organizer - International Art Foundation. International Art Foundation, Moscow, Russia
"PASTELS" Solo exhibition. Gallery "Red chambers", Moscow, Russia

2001
"EXHIBITION OF ARTISTS-TEACHERS" Organizer - Association of artists-teachers. Center of uninterrupted artistic education of Nemetckiy. Moscow

2000
"EXHIBITION OF RUSSIAN ARTISTS" Gallery "Athena Arte", Rome, Italy

Recent Activity