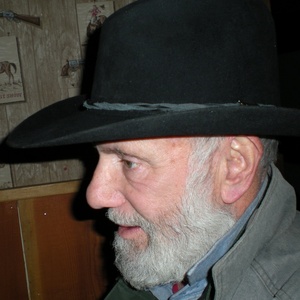 Follow
Scott Haley
Holman, NM, United States
About Scott Haley
Formerly I have been a working cowboy, a high school and college science instructor, an independent environmental regulatory compliance consultant, and a hazardous materials specialist for Sacramento County. I started making art part-time, specifically pen & ink drawings, in 1979; in 2006, I began full-time abstract painting. I started photography in the mid-1980s, stopped after a few years, and then took it up again in 2008. Now, I pursue photography very little. The original inspiration of my passion for art came with an elective course in Aesthetics at Colorado State University in the early '60s. The professor who taught that course stressed over and over: beauty is in the eye of the beholder...100%. Also--- perceptions change with time and events. A good example would be: when Jackson Pollock first started painting his 'drip' or 'pour' pieces, the so-called art experts said that those works looked like 'matted spaghetti'. They deemed them of little or no value. [Google 'Lavender Mist'.] Much later, one of his 'matted spaghetti' pieces sold for millions of dollars. Pollock is recognized as a giant in abstract expressionism. It's all in the eye of the beholder. My favorite painters are (in no particular order): Charles Russell, Claude Monet, Jackson Pollock, Lee Krasner, Jean-Michel Basquiat, Willem de Kooning, Perle Fine, Mark Rothko, Robert Motherwell, Joan Miro, Franz Kline, Allen Lehman, Paul Klee, Wassily Kandinski, Erik von Ploennies, Leonid Afremov, Maxim Grunin, Bob Ross, Susan Sadoury, Lee Piper, Michael Lang, and Jane Davies. I've been a completely full-time artist since 2006.
Education:
Except for a few courses, my formal education has not been in Art. My Bachelor's Degree is in Agriculture with a teaching major in Biology; my Master's Degree is in Geography, specifically the Man-Land Tradition (aka, Environmental Geography).

I'm mostly a "self-taught" painter, which means not only a lot of painting by trial & error, but also viewing online literally hundreds of hours (over about ten years) of university Art lectures, painting tutorials, Art documentaries, interviews, etc.
Events:
In 2011, my paintings met the criteria for me to become a juried artist at the Creative Arts Center in Bonham, Texas. [Before exhibiting there, an opportunity unrelated to Art came up which resulted in my moving to New Mexico.]
Exhibitions:
I've had no public exhibitions. I sell prints online, and people come to my home to get originals.
Recent Activity