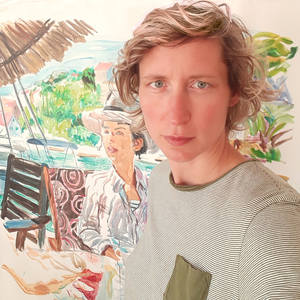 Follow
Helena Janecic
Zagreb
About Helena Janecic
Artist Helena Janecic prioritizes the female protagonist, placing women in visual narratives of confidence, self-awareness, and reimagined tradition. Her work, which ranges from large-scale paintings to graphic, comic-book-inspired drawings, is both witty and engaging while striking a balance between aesthetic rigor, personal narrative, and social commentary.
Education:
Batchelor degree in visual arts from Furman University, Greenville, South Carolina,
masters degree at the Academy of fine Arts in Zagreb, Croatia.
Freelance artist since 2010.

Exhibitions:
Solo exhibits:

2013. "Voyage of the Superheroine", Gallery Split, Croatia
2012. Croatian Patriotic Songs, Gallery Ring, HDLU Zagreb, Croatia
2011. Horny dyke on the edge of convention, Gallery VN, Zagreb, Croatia
2011. Handsome women save the day, Gallery Marissal, Zagreb, Croatia
2010. Strip pop, Gallery Windows, Zagreb, Croatia
2008. Country girls, SC gallery, Zagreb, Croatia

Group exhibits (selection):

2016. Exporting Zagreb, National Museum in Gdansk, Poland
2016. SuperQueeroes, Schwules Museum, Berlin, Germany
2015. 3rd Painting Biennale, HDLU Zagreb, Croatia
2015. Superheroes 2.0, Lauba, Zagreb, Croatia
2014. Comix Connection, Croatia, Slovenia, Serbia, Hungary, Romania, Bulgaria 2012. Drawings, Pride week, Köln, Germany
2011. T-HT contest, Museum of Contemporary Art, Zagreb, Croatia
2011. "Drawing outline" Contemporary drawing, Ukraine, Kiev, Ukraine
2011. "Pop art is not dead", Gallery Klovićevi dvori, Zagreb, Croatia
2011. "Pecs Osijek", Gallery Nador, Pecs, Hungary
2011. "The Other Reality: Emerging Croatian painters", Künstlerhaus Vienna, Austria
2010. GFEST, Gaywise, London, UK
2009. "Drawn in", Comic Jam, Artillerie, Berlin, Germany
2007. "Meeting point", Arad Biennale, Romania
Recent Activity