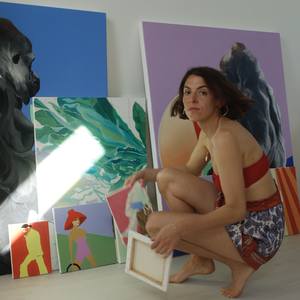 Follow
Lize Vandenbreeden
Grimbergen, België, Belgium
About Lize Vandenbreeden
Mother of two beautiful sons (10 and 11). We live in Brussels. I've been working 14 years in the fashion business. I worked as a concept designer, playing a vital role between the different departments (design, marketing & retail). My responsibility was the selection and buying of the clothing and lifestyle assortment. In my free time, I love to paint and travel (preferably in Asia because I'm interested in Asian culture). Besides, I love music and nature very much as well. IG @_lize_v
Education:
I studied fashion and textile design at the Royal Academy of Ghent and completed a master in fashion management at Domus Academy Milan.
Events:
For the "Happiness is just one possession away" collection I collaborated with my creative partner Kosala Gunasinghe. Kos AKA Koscos is a Sri Lankan born Artist & Creative Director based in Hong Kong.This collaboration was born in Hong Kong, where we decided to start LKS, an intercontinental creative studio between our two cities.
Thanks for supporting us on IG @lizekosstudio.
Recent Activity