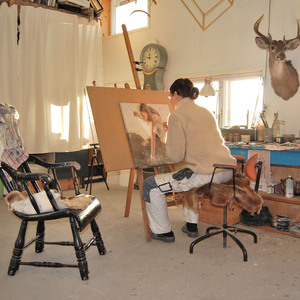 Follow
Silja Selonen
Lieto, Finland
About Silja Selonen
LOCATION: I live and work in Finland. Living nearby forests is vital for me. Working in old barn-atelje, outside it doing landart or gardening. COLLECTIONS: Turku City Art collection Private collections PUBLIC ART: Aboa vetus&Ars Nova / Museum of Contemporary Art Turku University: Department of Physics Housing Company Metsola Skanska Construction WORK: Nature is inspiration for me. Animals, humans, light, time ,gravity. When studying in Art-Academy I did my written thesis about art and science, and this theme followes me. To me those beautiful mathematical shapes represent the invisible world - time, energy, matter, gravity - but also emotions and awareness. In paintings I am trying to present inaccurate passing moment - in wiresculpting showing emptynes of matter - only energy-knots in time-1dimension. I do sculptures and interior-art, but mainly I paint. In paintings I want to be precise with tones of ligth and shadow, but like to paint expressive. I also like to carve stone, weld and twist iron.
Education:
2015 Accademia del Giglio,IT:
frescopainting
2010 Art Academy of Turku,FI: Public art
2004-2009 Art Academy of Turku, FI: Artist
2002 Pekka Halonen`s Academy, Repin-Institut: Portraitpainting
2001 Valamo Monastery, FI: Frescopainting
1989 Higher vocational qualification, Painter
1984-87 Painters Trade school, Turku
Events:
I was selected to be one of six finnish artists to be mentored on Shift-program 2017 by Finnish Art Agency.
Exhibitions:
upcoming in 2017:
- exhipiting online
- Summer-exhipition, Salo, Finland
Recent Activity