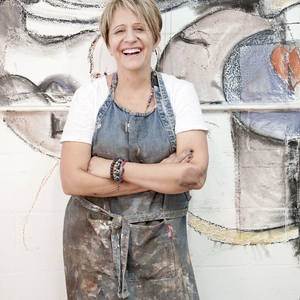 Follow
Aimee Perez
Miami, FL, United States
About Aimee Perez
Aimee Perez was born in Havana Cuba in 1955. She left for the United States when she was twelve years old with her family through the Freedom Flights and grew up in Miami in Cuban immigrant community. As a young adult she won honorable mention in the Gold Key Scholastic Awards in painting and several honorable mentions as she continued her pursuit of the arts during her college years. In 1989 she moved to Mexico City and continued painting and exhibiting with Cuban and Mexican artist. In 1997 she was invited to participate as a guest artist in the studio of Mexican sculptor Jose Sacal and it is here she begins to work for the first time in 3D with clay. She returned to Miami in 2006 and continued her work winning several awards for her figurative ceramics in the state of Florida. Perez has been praised for her command of gestures making her sculptures expressionistic and powerful which combined with the juxtaposition to found objects creates an organic symbiosis. She says her work is her voice, a dialogue with the observer and simultaneously a self-exploration. Her work can be found in many private collection in the United States and Mexico and in permanent collections including Florida International University Honors College Collection and The Bennett Women Collection, Texas Her studio is in the Bird Road Art District in Miami, Florida an area with more than 50 artists studios and become one of the hot spots for Cuban and Latin American Art.
Education:
Bachelors of Science from Endicott College, Beverly, Massachusetts. Magna Cum - Laude
Events:
Current events:

2017 - Close Up II : Nine Contemporary Cuban Artists, Lore Degestein Gallery, Susquehanna University, Susquehanna, Pennsylvania. September 2 until October 8th

2017- Red Clay Survey, Huntsville Art Museum, Alabama. July 8 until October 1st.

2017 - Nest Gen Ecological Biennale Project - FIU College of Engineering, Miami Fla. May through November.
Exhibitions:
2017- Close Up II: Nine Contemporary Cuban Artists, Lore Degestein Gallery, Susquehanna University, Susquehanna, Pennsylvania.
2017- Red Clay Survey 2017, Huntsville Art Museum, Alabama.
2017 - Naturalle, Efe Serrano Gallery, Murcia, Spain
2017 - Pentavisions Five Contemporary Cuban Artist, Aragon Gallery, Coral Gables, FL
2016 - Aqua Art Miami Simons Gallery - Time Travel
2016 - Nestgen - Ecological Biennale Project, FIU College of Engineering, Miami, Fl
2016 - Latinos 500, Barry University and Miami Shores Fine Arts Commission, Miami, Fl
2016 - Bombay Sapphire - Artisan Series, Wynwood Lab Gallery, Miami, Fl
2016 - 26th Annual All Florida Juried Arts Show, Stuart, Fl
2016 - CloseUp, Eight Contemorary Cuban Artists, Webber Gallery, Ocala Florida
2016 - Judge in the Coconut Grove Art Festival

2016- ArtKinetic, Pop Up, Pompano Beach, Florida
2016 - Miguel Rodez Art Project, Hello Dali, Miami Florida
2016- William V. Musto Cultural Center,Jose Marti La Voz a los Cuatro Vientos,Union City, New Jersey.
2015 - Red Dot Art Fair, Latin American Art Pavilion, Miami, Florida

2015 - CAFE XVII 'Culture and Community Development' University of West Indies, Barbados

2014 - The Jewish Museum-FIU Purim event - mask

2014 - Trinity Cathedral "Winter Solstice Exhibition", North Miami, Florida

2014 - Red Dot Art Fair with MAM Gallery, ART Basel week.

2014 - APS Bird Road Art District small format collective Our Barrio Group - "With the Minimum"

2014 - CLM Member's Exhibition - CAS Gallery, University of Miami, Coral Gables, Florida

2013 'Juror's Choice Winners' Artsight Gallery, Coral Gables, Florida

2013 ClayArts Broward At Government Cultural Center, Fort Lauderdale, Florida

2013 'Yesterday, Today and Tomorrow' The Appleton Museum of Art, Ocala, Florida

2013 ClayArts Broward 2013, Juried show at Broward National Library Gallery 6, Ft Lauderdale, Florida

2013 - Summer Splash Juried Show - ArtSight Gallery, Coral Gables, Florida

2013 - FINE ART CONTEMPO 2013 / 2a Exposición Colectiva Mutidisciplinaria

By Fine Art Gallery at San Angel Centro Cultural, Mexico City, Mexico





CAS Gallery - University of Miami Campus
CLM Members Exhibition May 31 to June 28 2013
Recent Activity