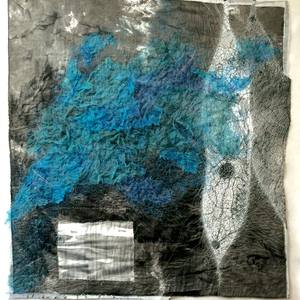 Follow
Akiko Suzuki
Higashiosaka-shi, Osaka, Japan
About Akiko Suzuki
My art is of invisible things, things that cannot be expressed in words; phenomena prior to the clarity of thinking; the sensation of the skin, the weight of the breath, the vision too much for the eyes to behold; ​The stories are created of themselves like the endless, continuous never-ending dreams of night I feel the presence of inspiration from the external, claim it and create from that impulse. perhaps like a shrine maiden listening to the voice of heaven, always at the boundary of the afterlife and this material world; Look from the other side of the river from this world, above this world, through this world and view yourself truly from the other side: There is neither time nor substance there, only instability and ambiguity; the moment is forever and eternity disappears in that moment I give shape to that world so as not to forget it, to be left behind from it...so it does not forget me My childish, meaningless behavior becomes photographs, videos, and poetry without words spelled out in cloth and thread. What expressed in expressing nothing is an entity. Sometimes I am stunned by this contradiction. Still, it is, and I can not stop expressing that I am alive.
Education:
Kyoto College of Art (Kyoto University of Art and Design)
Events:
Workshops :
2014 Venice Italy
2015 Tokyo,Taiwan, Benicia Ca, Lecce Italy
2016 Sausalito Ca, Venice Italy, Taiwan, Xiamen China
2017 Mazatlan Mexico, Sausalito Ca.
Exhibitions:
2014 Global Art Project Group Show in Venice Italy
2015 Mixed Media Group Show in France
Global Art Project Group Show in Lecce Italy
2016 Global Art Project Group Show / Dada Here and Now in San Francisco
2016 Global Art Project Group Show in Venice Italy
2017 Global Art Project Group Show in Mazatlan Mexico
Recent Activity