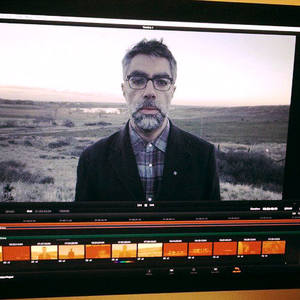 Follow
Usama Alshaibi
About Usama Alshaibi
I'm a filmmaker and visual artist. My films have received grants from the MacArthur Foundation, Creative Capital Foundation and Playboy Foundation. These are photos and prints from models, actors and other performers that have appeared in my films. But these are not film stills. All of the artwork is an original and signed by me.
Education:
Master of Fine Arts, University of Colorado, Film Studies, Boulder, CO, 2015.
Bachelor of Arts, Columbia College, Film and Video, Chicago, IL, 1997.
Events:
Selected Screenings (1999-2014)
The 15th United Nations Association Monterey Bay International Film Festival–November, 2014.
Arab Film Festival, San Francisco–October, 2014.
Big Sky Documentary Film Festival (US Premiere) – February, 2014.
International Documentary Film Festival Amsterdam (IDFA) November 22-December 2, 2013.
Chicago Underground Film Festival, June, 2011.
Boston Underground Film Festival, Boston, March 2011.
Sexy International Film Festival, Melbourne, Australia, November 24, 2010.
Kunstfilmtag in Düsseldorf, Germany, October 25, 2010.
From Aniconism to Bliss: Media art shows its Islamic roots, Pacific Cinematheque,Vancouver, 2010.
The National Museum, Perfromance Intermedia, Poland, June, 2010.
BUTFF in Netherlands, September 9-13, 2009.
Extrapool in Nijmegen, Netherlands March 20, 2009.
Printers' Ball, Museum of Contemporary Art, Chicago August 2008.
New Filmmakers, Anthology Film Archive, NYC, September 10, 2008.
Nice Bombs, Theatrical Release: Pioneer Theater & Gene Siskel Film Center, July, 2007.
Exhibitions:
Untitled (Atrocity Exhibitions) at ALASKA Projects in Kings Cross, Sydney, Australia, August 21, 2012.
RESISTANCE[S], Third Guangzhou Triennal, September 9 – November 15, 2008, China.
Printers' Ball, Museum of Contemporary Art, Chicago August, 2008.
This Is Only Temporary, Above Crater. Chicago, Group Show, 2008.
Visions of Discord, Group Show (paintings, video) Co-Prosperity Sphere,Chicago, February, 2008.
Coding:Decoding, Nikolaj Contemporary Art Center, Copenhagen, 2006.
It's Not The Bullet That Thrills, It's The Hole, F.I.N Arts; New York City, NY; July 2003.
Pawn, G'factor Studio; Chicago, IL, May 2002.
Plan B, group show, Chicago IL, 1998.
University of Iowa; Checkered Space, solo exhibition; Iowa City, IA, 1991.
Recent Activity