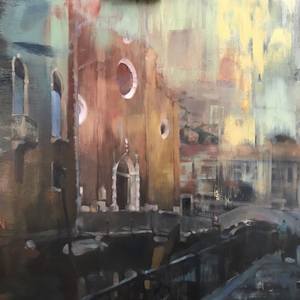 Follow
Chun Ping Claire Huang
Burnaby, BC, Canada
About Chun Ping Claire Huang
My art is a tribute to the places that hold up a moment of contemplation. Architecture is the inspiration of my work. The building or the interior is the vehicle with which I can most positively relate. I'm preoccupied, fascinated, and curious about the solitariness and mysteriousness of the places. My work is evolved in various stages with a mix of abstraction and landscape representation. Blurring edges and outlines as if images were speeding by with the flicker of film, or glimpsed through crashes of abstraction, colour obscuring or clearing... The architectural landscape have been selectively integrated into the abstract background by addition and subtraction, creation and destruction. The painting process often generates unexpected results, and creates an arena for me in which to act.
Education:
BFA of Fine Arts
Emily Carr Institute of Art & Design
(2001- 2005)
Events:
Enchanted Places
Paintings by Chun ping ( Claire) Huang
Jan 17 - Feb 23, 2019
Amelia Douglas Gallery, Douglas College
New Westminster, Canada
OPENING RECEPTION: JANUARY 18, 4:30 – 7:30PM
LIVE MUSIC, REFRESHMENTS, NO-HOST BAR
ARTIST'S TALK: JANUARY 22, 6:30PM, IN THE GALLERY



Published Article ,
http://www.reviewvancouver.org/sp_BuildingVistas2018.htm
Exhibitions:
Upcoming solo exhibition Jan17- Feb23, 2019
Douglas College, Amelia Douglas gallery, Vancouver

Space, Places and Traces: 2018 Culture Crawl Preview Exhibition. The Arts Factory, Vancouver

Major Public exhibition;
2018 "Building Vistas" Solo Exhibition
Silk purse Gallery, West Vancouver.
2017 Eastside culture crawl, Vancouver.
2010 World Expo in Shanghai.
Two of my paintings, "City of glass I" and "City of glass II" were selected and presented in Canadian Pavillon.
2007 BC Ministry of Tourism, culture, sports and arts office in Vancouver
"City of glass II"
Recent Activity