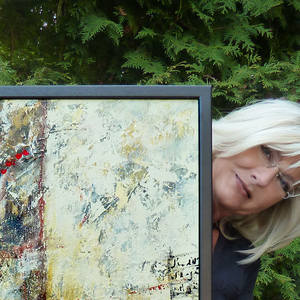 Follow
Angela Lindenlauf
Bad Münstereifel, Germany
About Angela Lindenlauf
born in Krefeld, living near to Cologne; abstract painting inspired by nature is my passion - abstract landscapes, abstract cloudscapes, abstract seescapes,..... My paintings are done in many layers building various structures until I am overall satisfied with the composition and color scheme. Memberships: BBK Aachen, crossart international, KunstForumEifel ART IS LIFE!
Education:
1984 - 1992 artist education in Cologne, profound studies in artists' studios (e.g. Irene Tschermak, H. Ruwohlt, Regine Burré - private tutoring): theory of colors, composing, drawing, abstract painting, collage, Informel;
since 1993 exhibitions in Gran Canaria, Frankfurt, Bonn, Cologne, Krefeld, Rheinbach, Gemünd, Nettersheim, Dresden, etc.
Exhibitions:
2018
Kunstpunkte Düsseldorf
Europäische Vereinigung Bildender Künstler aus Eifel und Ardennen e.V., Abtei Prüm
Literaturhaus Nettersheim
KunstForumEifel, Gemünd
Abstract Landscapes, Gallery BBK, Aachen

2017
Street Gallery, Köln-Lindenthal
OpenAirGalerie Heimatlust 2.0, Bad Münstereifel
Flashback, Fabrik45, Bonn
Monochrom.Minimal.Konkret, KunstForumEifel, Gemünd
Kunst im Rathaus, Nettersheim

2016
Alle Nacht den Sternen, KunstForumEifel, Gemünd
Vernetzung, Campus Hochschule Bonn-Rhein-Sieg, Rheinbach
LohmART, Kunsthalle Lohmar
4machART, Kunstraum Schöller, Heimbach
Das Europrojekt, Galerie Hartung, Köln
Bilder für über's Sofa, Kunstforum Eifel, Gemünd
Kunst im Rathaus, Nettersheim-Zingsheim

2015
Bilder für über's Sofa, Kunstforum Eifel, Gemünd
Rathaus Nettersheim, Zingsheim
Schloss Greiffenhorst, Krefeld
Kunstmeile Rheinbach
Tatort Kunst, Alte Feuerwache Köln

2014
Bilder für über's Sofa, Kunstforum Eifel, Gemünd,
Kunstzentrum Guy Martin – Montecristo, Maspalomas, Gran Canaria
True Colors, Amtsgericht Langenfeld
Beethovens Vierzehnte, Katharinenhof Bonn
EAT – Kunstforum Eifel Gemünd
Zeitsprung, Stadthalle Rheinbach
KunstMeile Rheinbach

2013
Kunstforum Eifel, Gemünd: Bilder für über's Sofa
ARTVENT, Künstlerforum Bonn
Kunstforum Eifel, Gemünd: Rot – Aspekte einer Farbe
Kunstzentrum Guy Martin – Montecristo, Maspalomas, Gran Canaria
9. KalkKunst, Köln
Europäische Vereinigung Bildender Künstler aus Eifel und Ardennen e.V., Abtei Prüm
FiftyFifty, Kunstforum 99, Rheinbach
Rodenkirchener Kunstmeile, Köln

2012
Ständige Ausstellung: Galerie fineart, Prüm
Europäische Vereinigung Bildender Künstler aus Eifel und Ardennen e.V., Abtei Prüm
Kunstforum 99 Werkschau, Amtsgericht Rheinbach
Kunst auf dem Campus, Hochschule Bonn-Rhein-Sieg, Rheinbach
Rodenkirchener Kunstmeile, Köln
Element: Erde – Galerie "DAS KUNST-WERK", Antweiler

2011
Mystische Bilder – magische Zeichen, Galerie "DAS KUNST-WERK", Antweiler
Abstrakte Farbwelten, Kleines Landcafé, Kerpen
Traumbild und Wirklichkeit, Kunstforum Rheinbach

2010
EGOistIN, Ausstellungsräume, Köln
AURA-33, Dresden

2009
Kunstraum Raeren (B)
EGOistIN, Ausstellungsräume, Köln

2008
Dienerts's Ausstellungsraum, Köln
Inter Art Galerie Reich, Köln, Sommerausstellung

2007
Europäische Vereinigung Bildender Künstler aus Eifel und Ardennen e.V., Abtei Prüm
Juwelier Böhm, Brühl

2006
Schloss Kambach, Eschweiler/Aachen
Juwelier Böhm, Brühl
Europäische Vereinigung Bildender Künstler aus Eifel und Ardennen e.V., Abtei Prüm

2005
Schemme´s, Erftstadt-Lechenich
Europäische Vereinigung Bildender Künstler aus Eifel und Ardennen e.V., Abtei Prüm

2004
Pantheon, Bonn
Juwelier Böhm, Brühl
lnt. Kunstausstellung aus Anlass der Erweiterung der Europäischen Union, Bitburg
Europäische Vereinigung Bildender Künstler aus Eifel und Ardennen e.V., Abtei Prüm

2003
Europäische Vereinigung Bildender Künstler aus Eifel und Ardennen e.V.,
Abtei Prüm

2002
Europäische Vereinigung Bildender Künstler aus Eifel und Ardennen e.V.,
Abtei Prüm

2000
RAND International, Seminarzentrum, Köln

1998
Galerie "Zikkurat", Satzvey-Firmenich

1997
Royal Motors Kempen, Köln
Galerie "Zikkurat", Satzvey-Firmenich

1996 Galerie "Nilius", Köln
Kölner Premierentage

1995
Spanische Handelskammer, Frankfurt/Main
Lufthansa City-Center, Köln
Royal Motors, Köln

1994
Historisches Rathaus, Köln
Auto Becker, Rolls-Royce-Dependance, Köln
Galerie Paloma Navarrete, Köln

1993
Galerie "Die Kerze", Bonn
BMW-Niederlassung, Bonn
Bankhaus Marcard, Stein & Co., Köln

Recent Activity