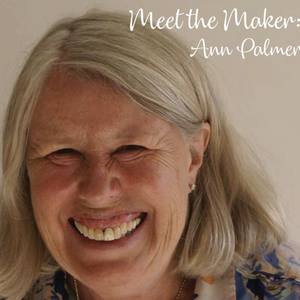 Follow
Ann Palmer
Rochester, Kent, United Kingdom
About Ann Palmer
Ann has a degree in public health medicine and worked for the NHS for 40 years. She lives in Rochester, UK and paints at home and in Studio One at Nucleus Arts in the Halpern Conservancy Building. She has been drawing and painting from 2007, taking up oils 8 years ago. Ann works in OILS principally land, sky and seascapes, often working directly out of doors in front of the scene. Her larger paintings are developed in the studio from her experiences en plein air, sketches and photographs. Ann gains inspiration from her travels to the coasts of Cornwall and Normandy as well as her home county of Kent. Ann developed her reputation as a plein air painter; working in the vineyards of the Loire Valley and around the Kent Coast where she worked out of a beach hut in Whitstable until joining Nucleus Arts in Chatham, Kent. Ann now has a studio in Rochester at the Halpern Pop Gallery and Nucleus Cafe where she exhibits; she also works from home painting in her conservatory and using her Attic Studio for preparing canvases and framing and storing her work. Currently Ann is working on a series of shoreline, sea and skyscape paintings around the Kent Coast and Cornwall. Ann builds her own canvases using stretcher bars and 12oz cotton duck. then prime it with 3 coats of acrylic primer and/or gesso. She usually coats the canvas with turpsy red, often Indian red, sometimes Burnt Siena. When this is dry she lays out the scene with a thin coat of oil paints then building on this, firstly using a brush, then thick oil paint applied with a palette knife. The extent to which the painting is built with more impasto depends on the scene and mood. Ann's style is impressionistic, representative tending towards some abstraction and expressionism.
Education:
Largely self taught Ann has attended local art classes and done a lot of reading and visiting museums and exhibitions; more importantly she has been to a number of master classes, notably with Mike Chaplin, Crawfurd Adamson, Alan Bordier and James Willis.
Ann is inspired by Turner who painted the same east Kent skies and by Kurt Jackson a cornish seascape painter.
Ann has learned to paint the sea and sky standing on the beaches of East Kent and Cornwall.
Events:
Ann is with Nucleus Arts and paints from Studio One also her home in Rochester UK. Visits can be arranged to the home studio, please call me on 07831547811.
Ann can also be found in the Eclectic Art Gallery in Margate.




Exhibitions:
Find Ann's work in the Eclectic Art Gallery in the heart of Margate Old Town open Wed - Sun 11am to 4pm

Ann is currently featured in the Summer Exhibition is La Galleria in Pall Mall Arcade, London 5 mins from TRafalgar Square

Exhibitions at Roys Art Fair and the Horsebridge Gallery in Whitstable have been postponed.

Gabriel Fine Arts 16-21 December 2019
Group exhibition with Gabriel Fine Art, 67 York Street, London W1H 1QB

Halpern Pop Gallery November 2019 and February 2020. Solo Exhibition. Halpern Conservancy Building, 15A High Steet Rochester ME1 1PY

East Sussex Art Fair 11-13 October 2019 Brighton Racecourse

Solo Exhibition at the Horsebridge Gallery, Whitstable September 2019

Seascapes - Solo Exhibition 28 August to 4 Sept 2019 - York Street Gallery, Ramsgate

Nucleus Arts Chatham Solo Exhibition Feb 22-28 2018

Sea and Vines - Solo Exhibition at Horsebridge Gallery, Whitstable - 26 April - 2 May 2017
Whitstable Framing window exhibition, 9 Oxford Street, Whitstable CT5 1DB - March 2017
What If....? Gallery Pop Up shop, Bluewater August 12 - September 22
Parallax Art Fair, Chelsea Town Hall, London 28,29 Feb and 1 March 2015
A Sense of Place - Solo Exhibition at Horsebridge Gallery, Whitstable - 12-18 Oct 2016
Land, Sea and Sky - solo exhibition - Solo Exhibition at Horsebridge Gallery, Whitstable - 17 Feb - 2 March 2016
Elements II - Nottinghill Tabernacle, 35 Powis Square, off Portobello Road, London W11 2AY - July 21-26 2015
Elements Exhibition - Gabriel Fine Art, London - June 5-20 2015
Group exhibition - Sun Pier, Chatham, June 6 - 21 2015
Solo exhibition - Plein Air Paintings Nucleus Gallery, Chatham March 2015

Recent Activity