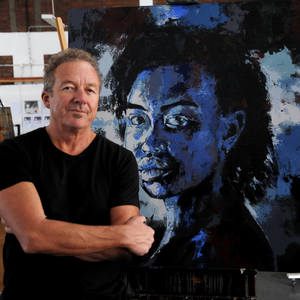 Follow
Anthony de Klerk
Cape Town, Western Cape, South Africa
About Anthony de Klerk
Ex adman, now full time painter of contemporary portraits and nudes. I run a busy loft style studio in Salt River Cape Town where I paint and also teach drawing and painting. I like to help artists out of their comfort zones and help them to find their own handwriting in their art. I am currently busy on a series of contemporary portraits of interesting and positive African people that I meet through my studio. Some of these portraits now hang in private collections in New York, London, Paris, Munich and Berlin. I am aiming to have an exhibition in Berlin later this year.
Education:
Nat Diploma Graphic design.
Oil painting with Ryno Swart
Exhibitions:
November 2014: First Thursdays solo exhibition at Friends of Design
December 2014 to January 2015: Solo exhibition at Biba Art Smithfield.
November 2015: Solo exhibition BrightDay gallery Cape Town. December 2015: Featured artist at La Place gallery, Jordan New York.
Recent Activity