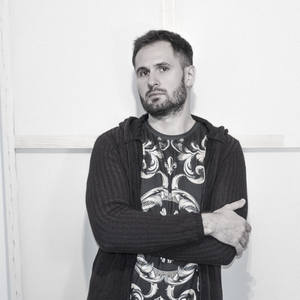 Follow
Gergely Bukovinszki
Shoreham by Sea, West Sussex, United Kingdom
About Gergely Bukovinszki
For me, creating art is a way of existence, a way of looking at things and decoding, processing information. I was born in 1985 in Hungary into a musical family, but by the age of fifteen I found visual communication to be the way to express my observations, deepest thoughts and emotions. By the time I completed BA studies in 2009 I was already slightly disillusioned by the "art world" in general, and realised that I better beat my own path. Being attracted to the vibrant life of London and the beauty of the coastline in the South East of England, I decided to move there to find a word of wisdom, challenge my paradigm and gain worldly experiences of a lifetime. I have spent the next few years finding my own voice as a painter, traveling, researching and compiling a vast amount of literature in all sorts of alternative subjects so I can confidently stand behind what I express in art without sounding like a baby crying in a crib. I developed great respect for stoicism and self studied theories of human psychology whilst continuously experimented with oil painting techniques and also completed commissions to keep in practice. Today, I primarily paint with oil, themes that reflect my views of society and questions about human existence in general. I find oil paint to be the most suitable medium - kindly forgiving, yet to be a powerhouse of expressive voice. I appreciate the balance between slightly rough surface created by thick coat of paint, and the highly detailed fine edges, playful thin coats of paint colouring the surface underneath. Through my paintings I aim to tell stories inspired by both current social and personal life events, my years long research into the occult (hidden) world, history, symbolism and my observations of how the human psyche can be and actually is affected by various traumatic events in a lifetime. The viewer should expect serious topics explored with a hint of dark humour injected at times. Instead of arriving at convictions, I ask questions regarding the original, uncorrupted purpose of life on this plane of existence, leaving behind religious traditions and conventional ideas; and thous attempting to find the "way out of here".
Education:
2005-2009 BA Visual Arts and Visual Communication, Institute of Visual Culture, University of Nyiregyhaza, Hungary

2004-2005 Graphic Design, Gabor Aron Technical College, Miskolc, Hungary

2001-2004 Foundational art classes and workshops, Hungary
Events:
2019 Peripheral Arteries Contemporary Art Review
2019 Matador Review, Winter 2019 Publication
2018 Epigraph Press, Issue 1.
Exhibitions:
2016 Private showing, Embassy Court, Brighton

2013 Private showing, Astra House, Brighton

2011 Gallery representation, Bellis Gallery, Brighton

2010 100 artists for worlds aids day 2010, Brighton, UK

2009 Guildford Art Society annual exhibition, Guildford, UK

2009 Solo exhibition, Hungary
Recent Activity