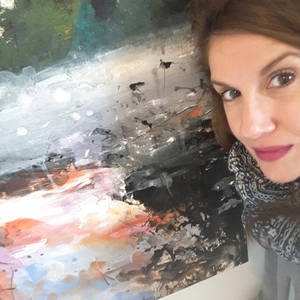 Follow
Carole Bressan
Paris, France
About Carole Bressan
Female French painter, based in Paris (France) Contact : carolebressan@gmail.com
Education:
Arts Plastiques Rennes 2 University France 1994/1998



Events:
"Carole Bressan's paintings have a magic realist quality to them, are deeply vibrant, lush, electric and overpowering, her use of strong blues and reds, as the foundation for her pictures, drawn from the colour palette of Joan Miró and other Surrealists who revelled in the exuberance of colour fields and the confluence of disparate images.
These visceral and whimsical paintings are a jazz riff off on the ordinary, her rhythms taking us into a fantastical world formed of Etruscan horses, insects, arabesques, calligraphy, pottery, dancers, birds, masks and melancholic women staring out at us from foreign lands, whispering to us, looking to understand the world and all its poetic glory.
This is what Bressan lives for, she breathes in the poetry of life and exhales it onto the canvas, her gestural energetic markings and wonderful textures seeking to make sense of a world which straddles the line between imagination and reality, her pop art enthusiasm for contemporary images juxtaposed with a fauvist love for pure unadulterated colour.
When feasting your eyes on these paintings you are dumbstruck into submission. Are forced to submit to a rich articulation of life, an overpowering dream that celebrates life and artistic freedom, an expression that reminds us that the world that surrounds us is an illusion and the constructs we live within merely a reflection of our fear. Bressan's pictures suggest that we only need to open our minds to lifes possibilities if we want to free ourselves from the shackles of our own making . To listen, to care and to wallow in the beauty of everything."
Exhibitions:

​
Artiste peintre française, née en 1973. Formation Université Rennes 2. Expose en France et à l'étranger depuis 2005.
​
Sociétaire de la Fondation Taylor.
En permanence dans les galeries : Galerie Vent des Cimes Grenoble, Galerie L'Art en Tête (Sologne), Galerie Bleu Réglisse Auvillar (FR)
Egalement, sont exposées en permanence, Centre de Conférences Edouard VII à Paris, les toiles dont le Centre a fait acquisition.
​
​
-----------LES EXPOSITIONS EN GALERIES
​
2017-2018 -Galerie Bleu Réglisse Espace Auvillar
2016-2018-Galerie L'ART en tête, Sologne
2010-2018- Galerie Vent des Cimes, Grenoble
2013-2016-Galerie Obéniche, Honfleur
2012-2015- Galerie NEEL, Cannes/Paris
2015-2016- Galerie Ces-Arts, Paris
2010-2012- Galerie Vieceli, Paris/Cannes
2010- Galerie Temps des Arts, Megève
2010-2011- Galerie Spolnik, La Varenne Sainte Hilaire
2009-2013- Galeries Graal, Clermont Ferrand , Toulouse, Agen, Moissac
2010-2013- Galerie Egregore, Lyon
2010-2011- Galerie Grulier, Courchevel/Avignon
2010- Galerie Joël Dupuis, Hardelot
2007-2010- Galeries Bartoux (St Paul de Vence, Paris, Honfleur, Courchevel, Megève, New York)
2006-2007- Galeries Carré D'Artistes
2005-2007- Galerie Toastgallery, Paris
2005-2007- Galerie Artwist, Paris


----------LES EXPOSITIONS COLLECTIVES
​
2018-RDV D'ART, Espace Christiane Peugeot, Paris
2018-Artcité, Fontenay Sous Bois
2018-Biennale des arts de Nogent-sur-Marne, Prix du jury
2018-Les Estivales de Montjoi (82)
2017-Salon ARAMI,Ermont
2017-Usine à Zabu, "C'est L'Printemps"
2016-Salon des Artistes du Val de Marne
2016-Salon des Arts de Pontoise
2016-Galerie Sylvie PLATINI, expositions "retour de plage" et "d'hiver et d'émotion"
2016- Château de Mauregard
2016- Galerie Art Nou Millenni , Barcelone
2015- En duo avec Thierry Dehais sculpteur, Carré des Coignard, Nogent sur Marne
2015- Salon "Art et Peinture" de Bourges, Invitée d'Honneur
2015-Salon Les Talents de Bailly (78), Invitée d'honneur
2014- "Art Actuel", Lyons La forêt
2014- Galerie Neel Paris avec Cécile Desserle
2013- Biennale d'Art Contemporain de Mortagne au Perche
2013-Les Hivernales, Bonsecours
2012- Salon Ballancourt
2012- Duo avec Pascale Vergeron, Lauzerte, Espace Point de Vue
2012- Biennale de Conches
2011-Artcité, Fontenay Sous Bois
2011-Biennale d'Art Contemporain de Mortagne au Perche
2011- Duo avec Nathalie Picoulet, maître pastelliste, Galerie Vent des Cimes, Grenoble
2010- Duo avec Thierry Dehais sculpteur, Chapelle Marquelet de la Noue, Meaux
2008- Saitama, Japon
2008- Paris/Kyoto,50 ans d'amitié, Kyoto, Japon
2008- Galerie Normandy, Honfleur
2006- Les petits formats d'Artwist
2006- Studio Gani, Saint Ouen


----------LES EXPOSITIONS PERSONNELLES
​
2018-Château de Mauregard, Saint Hilaire Le Châtel
2015-Galerie de l'Espace Daniel Sorano, Vincennes
2014- Galerie Manufacture 45, Rouen
2013- Galerie Neel, Place des Vosges, Paris
2012- Galerie Vieceli Place des Vosges, Paris
2012-Salon de la Hêtraie, Invitée d'honneur
2010- Centre de Conférences Edouard VII, Paris
2006- Office du Tourisme de la ville de Nanterre
2006- "Les Poétiques des sens", Toastgallery, Paris
2005- Abracadabar, Paris
2005- APBNF, Bibliothèque François Mitterrand, Paris
Recent Activity