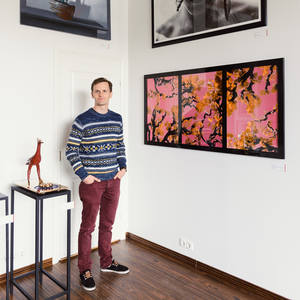 Follow
Christoffer Relander
Ekenäs, Raseborg, Finland
About Christoffer Relander
Christoffer Relander was born in Finland December 1986 and grew up on the countryside of Ekenäs. His interest in art started at an early age, but it was not until he served the Finnish Marines between 2008-2009 that he fell in love with photography. Today working as a full-time photographer Christoffer has done commissions for national as well as international clients including Adobe, Nikon, Oxford University Press and the Finnish Forest Industry. His work has been published in notable publications and websites around the globe such as The Guardian – The Observer, LA Times, Oprah.com, Huffington Post, China Daily and VICE.
Education:
Graphic design & visual art – Borgå Hantverks- och konstindustri skola 2007

Self-taught photographer.
Exhibitions:
2019

Konst & Form, Gumbostrand, Finland
Galleri Geo, Bergen, Norway

2017

Anderson Gallery, Bridgewater, USA
Finnish Institution, Madrid, Spain
Finnish Institution, Lissabon, Portugal
Galleri Kobra, Karjaa, Finland
Galleri GEO, Bergen, Norway
Gallery Lokal, Helsinki, Finland

2016

Galleri Kobra, Karjaa, Finland
EAM Gallery, Elkin, USA

2015:

November - "Continnum Plateau" debut solo exhibition in Konst & Form, Sibbo, Finland
March - "Symbiosis" solo exhibition in Bioruukki, Espoo, Finland
July - "Symbiosis" solo exhibition in Opera Saratoga, NY, USA
May - "Symbiosis" solo exhibition in Gallery Geo, Bergen, Norway

–

2014 - "SYMBIOSIS", Osnova Gallery, Moscow, Russia – solo exhibition

2014 - Ajatus Lentää Luonnosta, Galleri Uusitalo, Inkoo, Finland – group exhibition

2014 - Gumbostrand Konst & Form, Kuukauden nuori taiteilija, Loviisa, Finland – solo exhibition

2014 - Breaking Ground @ Mona Gallery, Charlotte, USA – group exhibition

2013 - "Christoffer Relander + Peter Essick + Eleanor Annand" in Mona Gallery, Charlotte, NC, USA, group exhibition

2013 - "SYMBIOSIS" in Lohjan Museo, Finland, solo

2013 - "SYMBIOSIS" in Galleri Zebra, Karis, Finland - Solo

Recent Activity