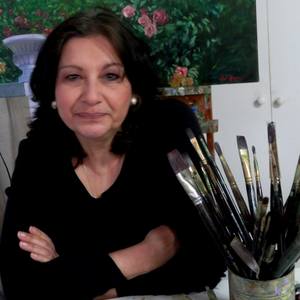 Follow
Cristina Del Rosso
Navarra, Navarra, Spain
About Cristina Del Rosso
Born in Bs.As., Argentina, 1959, and I have the Bella Italia in my genes. Being a child, I discovered the world of art and colors. I study the relationships of harmonies and contrasts. On composition, I try to merge Eastern traditional framing with Western themes, specially stil-lifes as the evidence of human interaction with our world; also, landscapes in different daylight moments.I try to capture the light, only the light that illuminates and fills all. My work try to emotion, impress and provoke the viewer and move him to a contemplative attitude. For me a picture should be a little gem, to tell stories, in which the viewer is involved. I want to bring peace and serenity to your home.
Education:
I studied drawing with R.Sanjulian (Bs.As, Arg.), watercolor, acrylic and oilpainting with C.Dartiguelongue and E.Serna (Bs.As., Arg.); sumi-é (japanese painting) with Y.Takagi (Bs.As., Arg.) and I deepened oilpainting with my maestro, S. Stitchkin (Santiago, Chile).
I attended workshops in Sao Paulo, Brazil, and the 2nd Figurative Workshop with A.López and J.J.Aquerreta (Pamplona, Spain).
I love to teach painting and History of Painting!
Events:
Current exhibitions:
2020 Feria Vernice, Forli, postponed.

Te invito a seguirme en mi blog sobre Historia de la Pintura. Te cuento historias, anécdotas, técnicas.. Sale los jueves, en español, y está dirigido a aquellas personas que por profesión o por no tener tiempo no pueden acceder a conocimientos avanzados de pintura.

Sígueme en
cristinadelrosso.blogspot.com
Inscríbete en las newsletters para estar al tanto de los nuevos artículos!

New! I have opened a line of objects of design. They are going to please you! Search Cristina del Rosso in shopvida.com and in fineartamerica.com

Exhibitions:
Current exhibitions:
2020, Centro Cultural Moncloa, Madrid
2020 Feria Vernice, Forli, Italia, postponed

I exhibited professionally from 1986, in Argentina (1986-87), Italy (2011-2019), Spain (2007-2018), Chile (2003-2007), Brazil (2003), Germany (1993 and 2013), Japan (2010), UK (2016-2018), Sweden (2018)
Highlights: Salón de Otoño. Salón Nacional y Salón de Óleo of the National Fine Arts Society of Chile. (2004-2006); Ciudadela, Pamplona, Spain (art event) "Sugerencias de los Sentidos" (2014)

Last exhibitions:
2019 "Sólo Arte", Sala Primavera, Casa del Reloj, Arganzuela, Madrid
2019 "Non solo piccolo formato", Galleria MegaArt, Via Roma 29, Corchiano, Viterbo, Italy
2019 "Un mondo di colori", Art Studio Gallery, Loreta Larkina, Venice
2019 "Passaggio in Laguna", Art Studio Gallery, Loreta Larkina, Venice
2018 "Sólo Arte", Sala Primavera, Junta Municipal de Arganzuela, Madrid
2018 "Dalla terra al cielo", group exhibitions in MegaArt Gallery, Corchiano, Viterbo, Italy
2018 "I miei colori" Pocket Art Studio, Roma
2018 "Memories" Mannaminne Museum, Höga Kusten, Sweden
2018 "Art Voyage in Wales", Newtown, Powys






Recent Activity