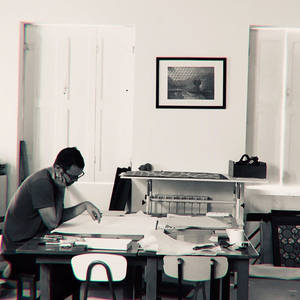 Follow
david barnes
porto, Portugal
About david barnes
My work has always explored the different layers and patterns behind everyday reality. Everything is a construction of different parts and elements. The visual world has underlying structures and patterns that combine to give us our perceived reality. My art seeks to reflect the connections and layering. A lot of my work involves creating collage. The act of cutting through a sheet of material reveals a window into another layer below. My work tries to create a sense of surface pattern, letting the eye roam over the picture plane, as well as creating a sense of depth and of space receding behind the surface. Born in Swansea, Wales Living in Porto, Portugal
Education:
Post graduate course Faculdade de Belas Artes Porto

Masters degree Prince's School of Art London

BA hons Fine Art Cardiff




Events:
Nigeria 2005-2008

I helped run a series of 4 workshops, working with young Nigerian artists and craftsmen and women from Kano region. In partnership with Kano polytechnic we held a series of exhibitions culminating in a large group show at the Terra Kulture Gallery in Lagos.
Exhibitions:
Galeria de Leoes Porto 2018 Contemporary print show

"Moving Street" Rua de Belmonte, Porto 2018
On site exhibition of prints made in-situ

Gallery Hostel Miguel Bombarda 2016 Porto
Two individual shows with a mixture of current collages

National Building Museum Washington DC 2007
Drawings and mixed media

St. Thomas Studios Wells 2007 Somerset arts weeks exhibitions

Victoria &Albert museum 2006 London Workshops

Shakespeare's Globe 2005 London Group exhibition and workshops

Charlotte rd. Galleries 2003-4 London Mixed media

Galleria Madre Art 2000 Madragoa, Lisboa

A series of exhibitions and older geometric work

Brighton artists gallery 1999 Brighton Group mixed media show.

Newton Aards town hall 1998 Belfast Solo Installation show.

Proposition gallery 1997 Belfast Solo installation show.

Mill Lane Gallery 1997 Cardiff Created a new artist's space with group sculpture show.

Recent Activity