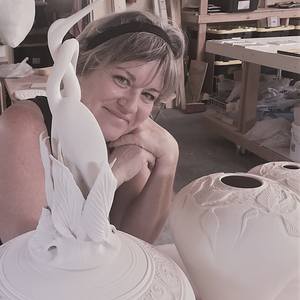 Follow
Debra Steidel
Wimberley, TX, United States
About Debra Steidel
I have had a lifelong love affair with clay. I can't explain what drives my passion or what pushes me to work in the studio each day. It isn't about leaving a legacy, or attaining wealth. As an artist, It is essential to our being "to create". My fascination with ceramics began in 1974, at a very young age of 18 when I purchased my first potters' wheel. The plasticity of this medium with its endless possibilities have kept me constantly inspired for over 4 decades. For me, nothing can compare to the sensation of raising each wall and the creation of an elegant form from a crude chunk of clay. I grew up in Virginia, on the outskirts of Washington, DC in the 1960's. Back then it was a quiet and wonderful place to be, a wooded forest just outside my doors; nature was a large part of my life and remains the inspiration in my work.
Education:
I am self taught. Through diligence, a library and advice from seasoned potters, I learned my way with the wheel and how to glaze and fire ware. I began as a functional potter, throwing bowls, mugs and such. In the early 1990's I had a bit of an awakening with my work and began to sculpt sculptural sea forms. These forms have carried over into my current body of work in the lids that are cast in glass. In 2004 I began experimenting with the ever fickle "crystalline glaze". I was hooked. All of my pieces are first hand thrown. Some are altered, carved and sculpted. The crystalline firing can take anywhere from 12 to 18 hours, with another 20 or so to cool. Each piece is as singular as a fingerprint.
Events:
I am an art fair artist and began doing fairs in 1974. So many I have forgotten, but here are just a few I have participated in over the last few decades.
Affordable Art Fair, London, UK
American Craft Council Shows, Baltimore, MD; St Paul, MN; Atlanta, GA
American Craft Exposition, Glencoe, IL
Armonk Art Show, Armonk, NY
Art Aspen, Aspen, CO
Art Miami Week, Spectrum, Red Dot, Aqua
Art New York, NY
Art Palm Beach, Palm Beach, FL
Art on the Square, Belleville, IL
Art Wynwood, Miami, FL
Bonita Springs Art Festival, Bonita Springs, FL
Bruce Museum Arts Festival, Greenwich, CT
Cherry Creek Arts Festival, Denver, CO
Coconut Grove Arts Festival, Miami, FL
La Quinta Art Festival, La Quinta, CA
Longs Park Art Festival, Lancaster, PA
Main Street Ft. Worth, TX
Naples National, Naples, FL
Naples Art and Antique Show, Naples, FL
Old Town Art Show, Chicago, IL
Palm Beach Modern Contemporary, Palm Beach, FL
Palm Beach Fine Craft Show, West Palm Beach, FL
Plaza Art Festival, Kansas City, MO
Sausalito Arts Festival, Sausalito, CA
SOFA, Chicago, IL
Sun Valley Arts & Crafts Festival, Ketchum, ID
Texas Contemporary, Houston, TX
The Woodlands Waterway Arts Festival, The Woodlands, TX
Weems Art Show, Albuquerque, NM
Virginia Beach Boardwalk Art Show, VA Beach, VA
Washington Fine Craft Show, Washington, DC






Exhibitions:
Regis Gallery - The Venetian - Las Vegas, Nevada
On going show and sale of selected work.

The Schouten Gallery, Langley, Washington
On going show and sale of selected work.
Recent Activity