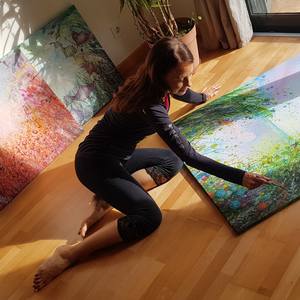 Follow
Dreya Novak
Kranj , Slovenia
About Dreya Novak
Dreja (pronounced Dreya) Novak, born in Slovenia, had her heart set on becoming an artist at a very early age. After high school, she started studying landscape architecture, but an awful car accident interrupted her studies. After a long rehabilitation, she moved to Florence to study interior design and decoration. After graduation, she continued her fine art studies at the private school of Joze Ciuha, where she perfected her painting skills under his guidance. Dreja's works can be found in private collections all over the world. Her deep passion for painting is rewarded by many happy people owning her works. She has been the selected artist for Saatchi gallery, Talenthouse, Art Limited many times and has also won worldwide art competitions for the 2016 Campo Viejo harvest event. For more than 15 years, Dreja and her inventor and entrepreneur husband Uros Platise have been traveling and living worldwide. During all the years of living abroad, they gathered a lot of knowledge about a healthy lifestyle, personal development and personality theories. Dreja has written two books: the first book about cooking and nutrition The Beauty of Food (Lepota hrane) was published in 2007 and the second book about enneagram theory Knowing Yourself and Understanding Others (Spoznati sebe in razumeti druge) was published by Mladinska knjiga Publishing House in 2008. In their free time, Dreja and Uros dance the tango and organize tango events in beautiful locations worldwide. In her latest book Breathe, Create, Connect to Shine she wants to show you that suffering doesn't have to be the one and only teacher and that there is another way for self-improvement, contentment and happiness. More about the book: http://www.drive-response/book
Education:
My style could be described as decorative romanticism with realistic figures placed in a surrealistic world. I have been traveling worldwide and living abroad for over 15 years, mostly in hot climates and near the sea. The sun, water, and colorful environment have a big influence on my artworks. Art allows me to capture the magical impressions from my travels and share these positive emotions with others.

The main focus of my work is to capture beauty in general, beautiful female faces, nature, combined with a colorful decoration. Being greatly inspired by Art Nouveau, decoration plays an important role—it enriches compositions and completes the overall story. Another important inspiration have always been patterns and motifs from nature itself, from fish and feathers to the seashore and flowers. Some have a special meaning, like for example flowers in my artworks represent the transience of life. They remind us of how quickly time passes by and how physical beauty and youth are fleeting.

I use different styles to transfer my imagination and feelings onto the canvas, from oil, acrylic, and watercolors—my preferred style while traveling. Regardless of the technique, my goal is to create artworks with a story that can or must be observed for some more time to be seen and the entire scope of my works to be understood.
Recent Activity