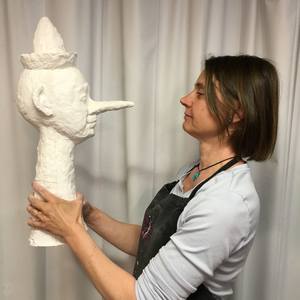 Follow
grazia imperio
New York NY, NY, United States
About grazia imperio
My life is a puzzle of colors, sounds and smells that's growing and taking shape through my wandering all over the world. Born in Italy in 1970 in a small city of the north surrounded by mountains and a middle European culture, I spent more than half of my life around the globe learning new way of life, of thinking and of interacting. My eyes got used to see and watch more and more faraway. Pakistan, Bangladesh, Albania, Uganda, Colombia, Niger, Brazil, Switzerland and New York, different part of the world where I spent part of my life, I built my experience and my background and I planted the seeds of my future art work. From 2009 to present time: New York A huge never-ending firework is crackling on this universal city where nothing stops. City-island, city-ship, city-fortress, New York with its amazing energy and intensity has welcome me from the very beginning pushing me to find my way and to open the dam of my inner life. A shine rainbow of colors, diversity and feeling is guiding me in my artwork, my favorite media is the ink, because of its power of color, its intensity and its immediacy …just like this inimitable city. The sculpture has been and is another step on the route of my discovery and I see the colored torsos as a natural consequence of it, the convergence point of my art. From 2005 to 2009: Switzerland Geneva, rich, serious, a Lady on the lake, with its huge Montblanc in the distance was not my dream. Coming from Brazil I was looking for colors, music, life. It took me some time to understand its charm of light colors and nuances, but at the same time I learned to look at small details, to feel the stillness and to get advantage from it. There I train myself to look, to observe, to listen at the silence, to let feelings deepening quietly. From 2002 t0 2005: Brazil I landed in Brasilia with the characters of Jorge Amado in my dreams and a lot of question and curiosity about this huge country in my mind. A lot of green, the color of the Big Forest, yellow, the color of the sun everywhere, the blue, boundless and intense like the sky in Brasilia, brown like the color of the skin of a part of its inhabitants the ones from which comes the rhythm and the sounds of its extraordinary music and dances. This unforgettable country putted me for the first time in front of my unconscious side with its sensuality and its liveliness, freeing my need of express and become myself. The city of Brasilia, modern and basic at the same time, has shown to me the importance of simplicity, nature and geometry have told me to be myself without tricks and artifice. The watercolor with its malleability and the water, with its power of mixing and expanding on the paper represents for me this wonderful country and its people. From 1999 to 2002: Niger When I landed for the first time in the middle of Sahel, surrounded by sand, sun and dust I discovered the power of colors and tones: brown was never only brown, it was light brown or ochre, sienna or dark yellow, it could have been even dark red or rust. There I started understanding the power of nuances and shadow. The huge empty spaces of that country with just a small spot of color faraway will stay in my mind like a white canvas to fill with colors and lines. I immerse myself in the practice of coloring fabrics with traditional techniques of batik and bogolan, and I tried to give shape to the clay of the river. From 1996 to 1998: Colombia Colors, sounds, diversity. That's what I met in my first Latin American experience. Everything was new and unexpected. I founded the mysterious atmosphere that I discovered for the first time in Garcia Marquez's romans. From 1994 to 1996: Albania Being witness of the huge desire of this little but strong people to free itself, to get in touch with other cultures forbidden for so many years, opened wide my eyes to diversity and to similarity, the human being is always and everywhere done for searching more and more, no matter what the place, the situation, the possibility. Struggling is part of the human nature. In Albania colors are bright,
Education:
My cultural background are classical studies
and psychology because my focus is the comprehension of the human nature.
My artistic background
I learned woodcut with the teacher Sylvio Carneiro in Brazil, watercolor with the teacher Minnie Sardinha
Here in New York I studied at the Art Student League. watercolor with the teacher Naomi Campbell, drawing and composition with the teacher Bob Cenedella and sculpture with Jonathan Shann and Arslan


Being part of the different world where I lived has always been one of my priority.
Understanding to be understood and accept the diversity to be accepted is my goal, that's way I learned and now I speak several languages: Italian, my mother tong, English, French, Spanish, Portuguese and a "childish" knowledge of German, language of my early childhood.
Art is a kind of language, a way of expressing myself in my deepest essence. As every other language, to get fluent in it you need many, many hours of listening, observing and absorbing, all attitudes that I should never lose if I want to pursue a truth and empathic expression.

Exhibitions:
2012
Exhibition "biennale dell'acquarello e del disegno", Castello di Levizzano (Modena)- Italy

Solo exhibition in Lazise (Verona)- Italy
Solo exhibition in Rovereto (Trento) – Italy
2012 January Collective exhibition in NY Art Student League
2013
Solo exhibition in Rovereto Italy
Collective exhibition in NY Art Student League
2014 Collective exhibition in NY Art Student League
2015 Collective exhibition in NY Art Student League
2017 Collective exhibition in NY Art Student League
2018 Collective exhibition in NY Art Student League

Recent Activity