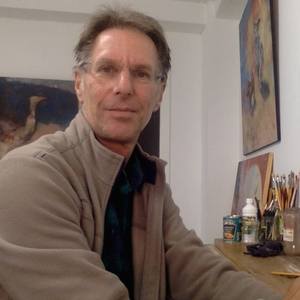 Follow
Howard Ross
Toronto, ON, Canada
About Howard Ross
I am a Toronto, Canada born painter. I have been a professional artist since 1985. I love to paint. I love the physical activity of painting. I love the process of starting with a white panel, and then, after much mental anguish and hours of smelling turpentine, something exists that did not exist before. I love being alone in my studio, listening to music, studying my marks, colour choices, and surprising accidents. Over the years my work has been primarily figurative with a tendency towards abstraction. I never know where my work will take me but this spontaneity is vital to my creative process. I almost always work in series, working on one theme at a time. I currently live in Spain.
Education:
B.A. History and Political Science - Carleton University, Ottawa, Canada
3 years Ontario College of Art, Toronto, Canada
Events:
Upcoming solo exhibition:
Casa de Galicia, Madrid, Spain. Dec 4 to Dec 30, 2017. Opening is Dec. 4, at 7:30 pm.
Exhibitions:
Recent Solo Exhibitions
2016 Walking Jumping Thinking, Solar do Alvarinho, Malgacao, Portugal
2015 Walking Jumping Thinking, L'Atelier Art Studio and Gallery, Pontevedra, Galicia, Spain
2015 Peregrinos y Pasajes, L'Atelier Art Studio and Gallery, Pontevedra, Galicia, Spain
2012 Sala de Exposiciónes, Xunta de Pontevedra, Pontevedra, Galicia, Spain
2011 "Leap of Faith" Sala de Exposiciónes "Ateneo Corredoira", Combarro, Galicia, Spain
2010 "New Work (and More)" Albergue de Peregrinos, Pontevedra, Galicia, Spain
2010 "Spanish Portraits" Monasterio de Poio, Galicia, Spain
2007 "Alentejo in Red" Café AteJazz Estromoz, Portugal

Recent Group Exhibitions
2015 "GóisOrosoArte 2015" Góis, Coimbra, Portugal
2012 "Aveiro Cultura 2012" Galeria Dos Paços do Concelho, Aveiro, Portugal
2011 "GóisOrosoArte 2011" Casa de Cultura, Sigueiro, Galicia, Spain
2011 "GóisOrosoArte 2011" Góis, Coimbra, Portugal
2011 "Affordable Art Show" Inc Tank Gallery, Edinburgh, Scotland
2011 "Letters from Iberia" Inc Tank Gallery, Edinburgh, Scotland
2006 "10th Anniversary Show" Propeller Centre for the Visual Arts, Toronto, Canada

Recent Activity