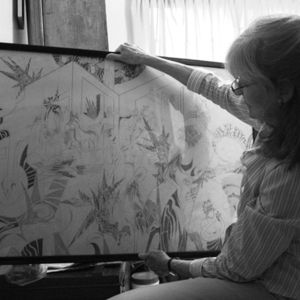 Follow
Oksana Linde
San Antonio de los Altos, Miranda, Venezuela
About Oksana Linde
My parents arrived in Venezuela after leaving Ukraine. I was born in Caracas. I did not study Arts formally. My mother Halyna Linde-Krychevska taught me several techniques, but I followed my way while dedicating to other activities. I paint and draw since a child. Used to draw in the notebooks during classes in school. I would have liked to illustrate books. Some now and then I have done logos. I find inspiration in almost everything. I close my eyes and find myself in extraordinary places I would like to paint, but it seems impossible due to the complexity and the uncontrollable changes of the images. I like to experiment with diverse techniques and materials. Sometimes I begin to work without any specific intention, waiting to be guided by my inner world. http://www.saatchionline.com/infiniterra http://emptyeasel.com/2016/03/08/oksana-linde-vibrant-digital-art/ XXXXXXXXX Interested in Science, Environment, Health, Nutrition, Sociology, Anthropology, Evolution, Geology.
Education:
Non-academic education in visual arts with my mother Halyna Krychevska-Linde and ceramic with brother Vasyl Linde Krychevsky

I studied Chemistry at the Universidad de Oriente (UDO) and the Central University of Venezuela (UCV)

Obtained a Chemistry MsC (Venezuelan Institute for Scientific Research IVIC). I had to leave the labs when I was 33, due to chronic intoxication, which left me with some health sequels.

Non formal musical education. Piano, Syntheziser..
https://www.reverbnation.com/infiniterra
Events:
Future Shows: Probably in Caracas and San Antonio de los Altos, in the US; exhibitions in Ukraine, planned to take place someday. The last solo exhibition took place in October-November 2017, a small retrospective exhibit in San Antonio de los Altos - Miranda.
In January 2013 was inaugurated in Opishne, Ukraine, a museum dedicated to the Krychevsky artistic family. Some of my small works are there.
Exhibitions:
45 collective, 13 solo exhibitions.
Selected to take part in The First Catskill Digital Art Show, March 2016, with two artworks. 19 participants.
http://moca.virtual.museum/atelierprogressif/firstcatskill.htm
Recent Activity